605th Machine Gun Company War Diary - 19 to 26 May 1916
Topic: Gm - Bk - 605 MGC
German 605th Machine Gun Company (MGC)
War Diary, 19 May to 26 May 1916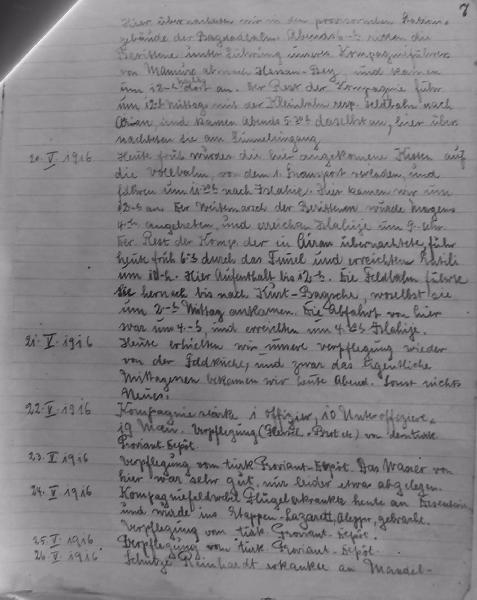 605th Machine Gun Company War Diary - 19 to 26 May 1916

The entries
19.V.16:
Here we spent the night in the temporary station buildings. At 6 p.m. the mounted men under the company commander rode from Mamure to Kassan Bey which they reached at midnight. The remainder of the company travelled at noon by the field railway (narrow gauge) to Airan, which they reached at 5.30 p.m. and spent the night at the entrance to the tunnel.


20.V.16:
Early this morning the boxes which had arrived here were transferred to the broad-gauge line from the narrow gauge railway and proceeded at 11.30 a.m. to Islahic. We arrived here at noon. The march of the mounted men was continued at 4 a.m., reaching Islahic at 9 a.m. The remainder of the company which had spent the night at Airan, railed at 6 a.m. through the tunnel and arrived at Entili at 10 a.m. and halted till noon. The field railway then took them to Kurt Bagsche which they reached at 2 p.m. They left here at 4 p.m. and arrived at Islahije at 4.30 p.m.


21.V.16:
To-day we got our food again from the field kitchen, and what was really dinner we got this evening. Otherwise nothing new.


22.V.16:
Company strength 1 officer, 10 N.C.O's., 19 men. Supplies (meat, bread, etc.) from the Turkish supply Depot.


23.V.16:
Supplies from the Turkish Supply Depot. The water here was very good but unfortunately flat.


24.V.16:
Company Sergeant Major Flugel fell sink of dysentery to-day and was sent to the L. of C. hospital at Aleppo. Supplies from the Turkish Supply Depot.


25.V.16:
Supplies from the Turkish Supply Depot.


26.V.16:
Pte. Reinhardt fell sick of tonsillitis and was handed over to the 213th Field Ambulance here. Supplies from the T.S. Depot.
Previous Page: 605th Machine Gun Company War Diary - 17 to 19 May 1916
Next Page: 605th Machine Gun Company War Diary - 26 to 30 May 1916
Further Reading:
German 605th Machine Gun Company (MGC) , Contents
Battles where Australians fought, 1899-1920
---
Citation:
605th Machine Gun Company War Diary - 19 to 26 May 1916
Posted by Project Leader at 12:01 AM EADT
Updated: Wednesday, 15 April 2009 6:42 PM EADT