Orient Line Shipping Schedule, Adelaide, August 1914
Topic: GW - August 1914
Prelude to war - Australian Society at the beginning of August 1914.
The Great War was considered to be a big adventure in the first days. This recruiting brochure sells the tourism aspect of military service.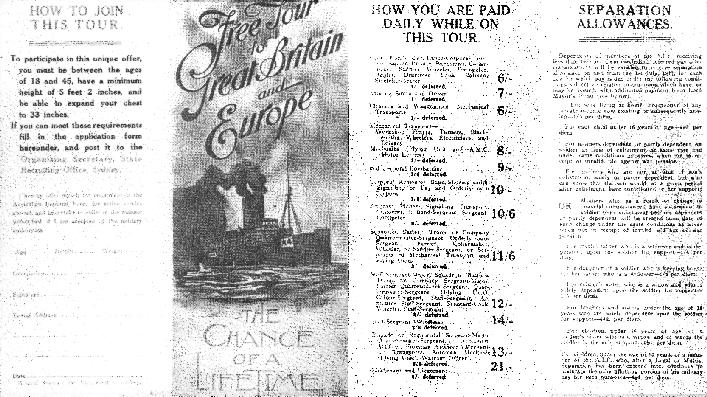 The Chance of a Lifetime - Early Recruiting Brochure

[Click on picture for larger version.]
The men who rushed to enlist in the big adventure did so within the context of the social conditions prevailing at the time. Since Australia was an island, coastal and international shipping was its lifeline to other nations. Cargoes included human and other styles. Travel to Britain was very popular as the steaming schedules illustrate.
The first view into this society comes from the perspective of Adelaide. The shipping schedules and prices of those journies reflects the position of the various coastal communities to the economy.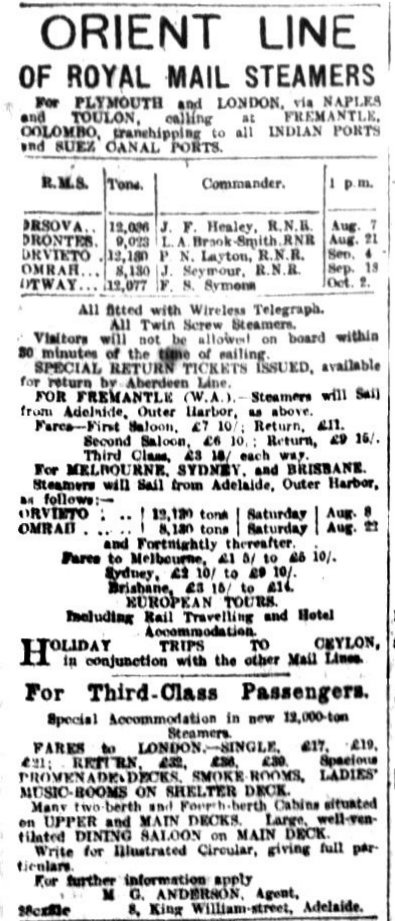 Orient Line Shipping Schedule for the third quarter of 1914
Adelaide Advertiser, Monday, 3 August 1914, p. 1.
Here we see a fleet of the latest style of fast twin screw ships fitted wireless telegraphy, the newest innovation in shipping safety. There was a ship leaving for London every fortnight from Port Adelaide. A 3rd class ticket to Fremantle was £3/18/- or about a thousand dollars at current values.
---
Citation:
Orient Line Shipping Schedule, Adelaide, August 1914
Posted by Project Leader at 11:29 AM EADT
Updated: Monday, 18 August 2008 11:35 AM EADT