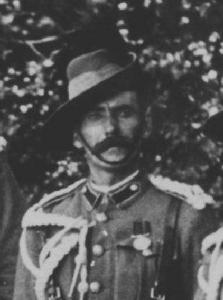 Alfred Edward SCOTT
From the Oz Boer Data Base:
Surname SCOTT
Given Name(s) or Initial(s) AE
Regimental Number 114
Rank Private
Unit Name 1st South Australian Mounted Rifles
State SA
Extracts and Comments
(from Sources as shown)
Murray: Lance Corporal.
Newbury1: 1902 Coronation Contingent.
URL1: butcher born 1871 married, 1Coy. Adelaide Mounted Rifles.
URL3: QSA & 4 clasps.
Source References
Murray: Official Records of the Australian Contingents etc. page(s) 346
Newbury1: South Australians and the South African War page(s) 34
Ad. Advertiser: Adelaide Advertiser newspaper date(s) 14.12.1901 & 8.5.1902
Register: The Register newspaper South Australia 31.10.1899
External Link URL1
http://nla.gov.au/nla.news-article4917283
External Link URL2
http://nla.gov.au/nla.news-article54853339
External Link URL3
http://nla.gov.au/nla.news-article4871650