Welcome to the
Gallipoli Album, May 1915
.
As casualties lists from the Gallipoli Campaign became known in Australia from early May 1915, it became a practice to publish a photograph of individuals. These photographs were supplied by the families of the person on the casualty list. There were few photographs published in relation to the number of casualties listed. To give the extent of the human tragedy that unfolded, the photographs were extracted from the various newspapers and placed in this album. Each photograph is clearly identified to an individual and brief details are given as a short biography.
For a comprehensive listing of photographs in the album, see:
Gallipoli Album, May 1915, Contents
Finding service information.
Navigating the National Archives Service File
Should any further details be sought, see Australian Light Horse Studies Centre
Lest We Forget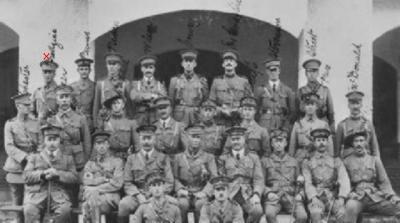 Group portrait of officers of the 3rd Battalion
Group portrait of officers of the 3rd Battalion. Back row, left to right: Second Lieutenant (2nd Lt) Cedric Errol Meyer Brodziak (later awarded DSO; killed in action 31 August 1918); Lieutenant (Lt) Ronald Burns (killed in action 25 April 1915); 2nd Lt William Christian Beeken (killed in action 6 August 1915); Lt John Carandini (Carrandine) Wilson (died of wounds 21 May 1915); Lt Robert Orlando Cowey; Lt (Honorary Captain) David McFie McConaghy (later awarded DSO and CMG; died of wounds 9 April 1918); 2nd Lt Leonard Ken Stevenson and 2nd Lt Lawrence (Laurence) Whistler Street (killed in action 19 May 1915). Second row: Captain (Capt) Charles Edward Leer (killed in action 25 April 1915) ; 2nd Lt Edward MacFarlane MacFarlane (died of wounds at sea 2 August 1918); Lt (Honorary Captain) Colin Douglas Austin (killed 6 August 1915); 2nd Lt Harold Edmund Butler; Lt Eric George Goldring; 2nd Lt Owen Glendower Howell-Price (later awarded DSO and MC; died of wounds 4 November 1916) and Lt George Edward McDonald. Front row, seated on bench: Honorary Lt George Wall; Capt John Willoughby Butler Bean, Medical Officer (MO); Major Alfred Joshua Bennett (later awarded CMG); Lieutenant Colonel Robert Haylock Owen, Commanding Officer (later awarded CMG); Captain Ernest Samuel Brown (killed in action 6 August 1915); Capt Malcolm St John Lamb; Capt Thomas Oscar Smith (killed in action 7 May 1915) and Capt William Bowman Douglas (died of wounds 5 May 1915). At front, seated on ground: 2nd Lt Harold William Goldring and 2nd Lt Kenneth John Hinde (killed in action 5 May 1915). The original contingent of the 3rd Battalion embarked from Sydney on 20 October 1914 on HMAT Euripides (A14).
Lieutenant Cedric Errol Meyer BRODZIAK, a 23 year old Engineer from "St Annes", Birrell Street, Bondi, New South Wales. He enlisted in the AIF on 3 September 1914 and was allotted to the 3rd Battalion C Company which embarked from Sydney, New South Wales, on board HMAT A19 Afric on 18 October 1914. BRODZIAK subsequently was Wounded in Action, 27 April 1915. During the Great War BRODZIAK was Killed in Action, 31 August 1918. BRODZIAK was awarded the Distinguished Service Order - DSO and was Mentioned in Despatches.
Comments (0) | Add a Comment