605th Machine Gun Company War Diary
Topic: Gm - Bk - 605 MGC
German 605th Machine Gun Company (MGC)
War Diary, 29 March to 31 March 1916
During the Battle of Romani, at Bir um Ziad, the men from the 2nd Light Horse Brigade captured members of the 605th Machine Gun Company. Along with the machine guns, a number of gun chests were also recovered. An ambulance man, 429 Sgt John Jackson Dunbar from the 2nd Light Horse Field Ambulance opened up one of the chests and discovered the unit's War Diary. Much later on, the War Diary was translated by Major General John Gellibrand. Eventually it found its way by donation to the Australian War Memorial by the good services of Captain RA Perkins from the 2/41st Battalion.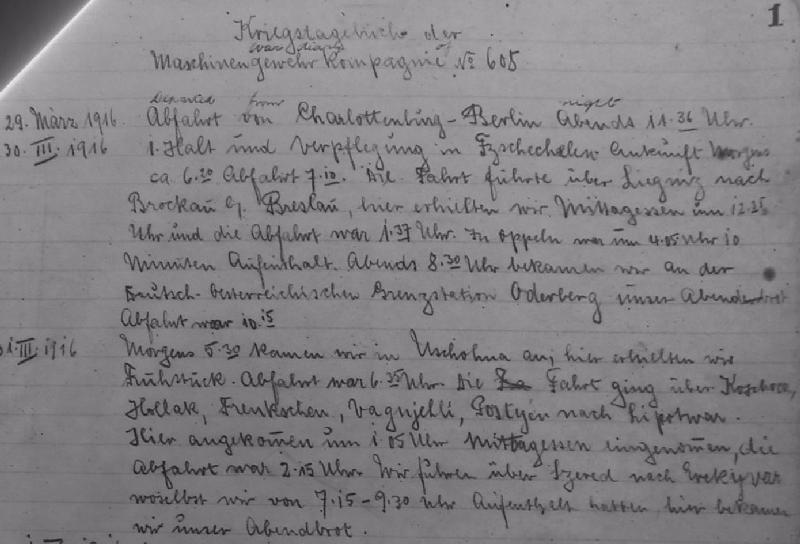 605th Machine Gun Company War Diary - 29 to 31 March 1916

The entries
Translation:
29 March 1916:
Departure from Charlottenburg-Berlin 11.36 p.m.


30.III.16:
1st stop and meal at Fzschechelin, arrival about 6.20 a.m., departure 7.10 a.m. The journey went through Liegnitz to Brockau and Breslau chase we got dinner about 12.35 p.m. and departure took lace at 1.37 p.m. At Oppeln there was 10-minute stop about 4.05 p.m.. At 8.30 in the evening we received our evening meal at the Austro-German frontier station Oderberg. Departure at 10.15.
31:III.16:
At 5.30 a.m. we arrived at Lischohna where we got breakfast. Departure at 6.35 a.m. The journey went through Koschoor, Hollak. Frenkschen, Vagnjehli, Postyen to Lipotwar. Arrived this place about 1.05 p.m., got the midday departure was at 2.15 p.m. To travelled via Seared to Erekyvar where we had a stop from 7.15 to 9.30 where we got our evening meal.
Previous Page: No previous page.
Next Page: 605th Machine Gun Company War Diary - 1 to 3 April 1916
Further Reading:
German 605th Machine Gun Company (MGC) , Contents
Battles where Australians fought, 1899-1920
---
Citation: 605th Machine Gun Company War Diary - 29 to 31 March 1916
Posted by Project Leader at 12:01 AM EADT
Updated: Wednesday, 15 April 2009 10:52 PM EADT