605th Machine Gun Company War Diary - 7 April to 3 May 1916
Topic: Gm - Bk - 605 MGC
German 605th Machine Gun Company (MGC)
War Diary, 7 April to 3 May 1916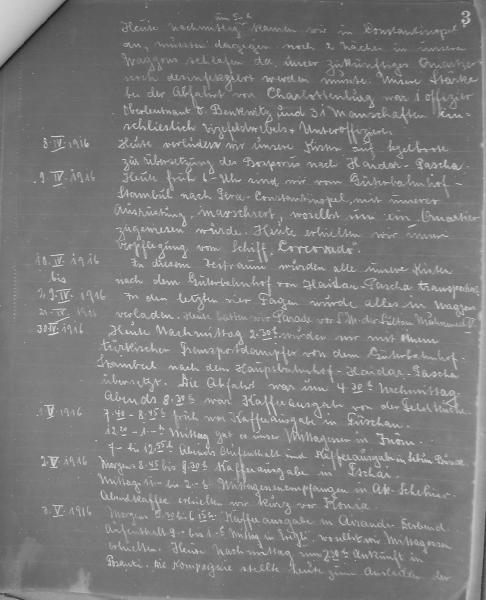 605th Machine Gun Company War Diary - 7 April to 3 May 1916
The entries
7.IV.16:
At 5 this afternoon we arrived at Constantinopel but had to sleep another two nights in our railway carriages as our future quarters had still to be disinfected. Our strength on leaving Charlottenburg was 1 officer (Lieut. V. Benkwitz) and 31 O.R. including actg. S.M. and N.C.O.'s.
8.IV.16:
To-day we loaded our boxes on sailing boats to cross the Bosphorus to Haidar-Pascha.


9.IV.16:
To-day at 6 a.m. we marched with our equipment from the goods station Stambul to Pera-Constantinopel where we were given billets. Today we got our supplies from the ship Corsovado.


10.IV.16 to 29.IV.16:
During this period all our boxes were moved to the goods station at Haidar-Passha. During the last four days everything was loaded into trusks.


21.IV.16:
Today we paraded before H.M. the Sultan, Mahamed V.


31.IV.16:
This afternoon at 2.30 we were taken on a Turkish transport from the goods station Stambal to the main railway station Haidar Pascha. Departure took place 4.30 p.m. A coffee issue was made from the field kitchen at 8.30.


1.V.16:
7.40 to 8.45 a.m. coffee issued at Tuschan. 12.20 to 1 p.m. dinner at Inom. 7 to 12.55 a.m. halt and coffee issue at Sabun Bunak.
2.V.16:
8.45 to 9.30 a.m. coffee issue at Tschai, 11 to 2 p.m. dinner at Ak-Schehier. To got our evening coffee just before reaching Konia.


3.V.16:
5.30 to 6.15 a.m. coffee issue at Airandi-Derbend. Stop from 9 to 1.05 p.m. at Erigli where we had dinner. At 2.30 this afternoon we arrived at Posanki. The company furnished details to unload the trucks whilst the remainder pitched tents.
Previous Page: 605th Machine Gun Company War Diary - 3 to 7 April 1916
Next Page: 605th Machine Gun Company War Diary - 3 to 8 May 1916
Further Reading:
German 605th Machine Gun Company (MGC) , Contents
Battles where Australians fought, 1899-1920
---
Citation: 605th Machine Gun Company War Diary - 7 April to 3 May 1916
Posted by Project Leader at 12:01 AM EADT
Updated: Wednesday, 15 April 2009 7:52 PM EADT