The Battle of Magdhaba, Sinai, December 23, 1916, Comparison of Maps, Australia, Britain and Turkey
Topic: BatzS - Magdhaba
The Battle of Magdhaba
Sinai, 23 December 1916
Magdhaba Maps Comparisons, Australia, Britain and Turkey
When reading the official history accounts of Magdhaba, one thing that come quite clear - the redoubts have different numbes on the British map as opposed to the Australian map.
The first map is extracted from Gullett's work, The Australian Imperial Force in Sinai and Palestine, 1914–1918.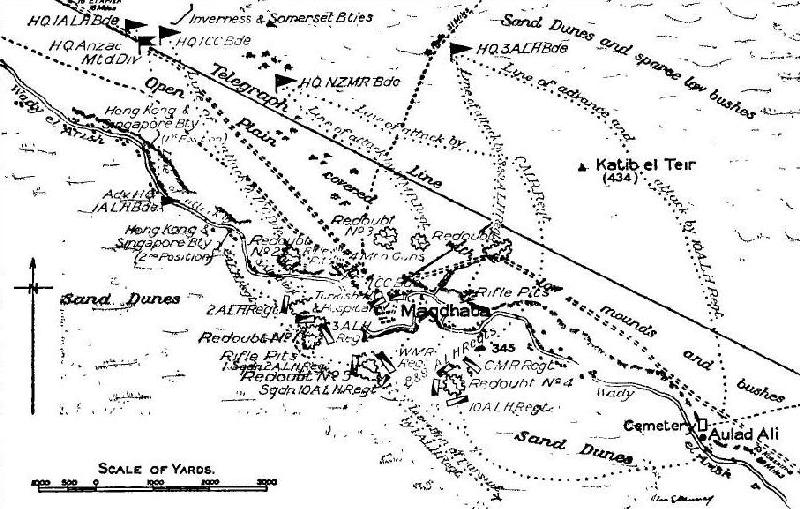 The position of Magdhaba at dusk.
[Gullett, Chapter XIV – Magdhaba]
The issue to observe is the numbering allocated to the redoubts which is in a clockwise direction. In contrast, the work by Cyril Falls called Military operations: Egypt and Palestine contains this map called Sketch 12 which faces p. 253.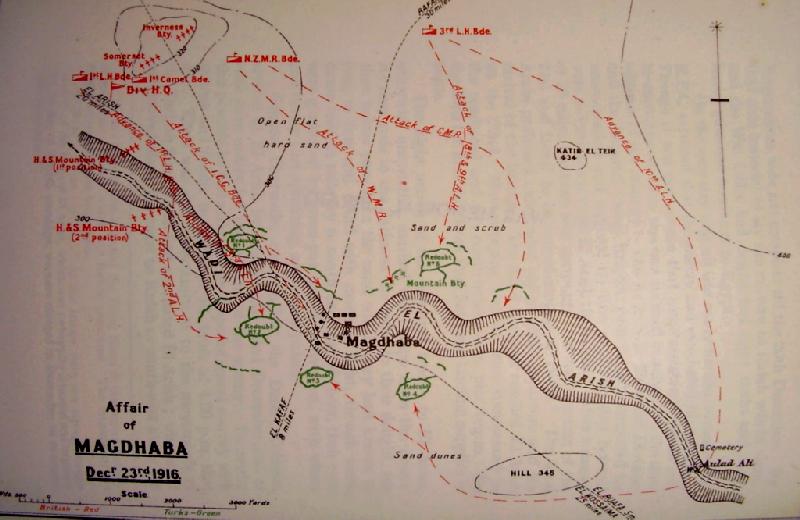 Sketch 12, Magdhaba
This particular map uses the anticlockwise notation for the redoubts, a methodology similar to that of the 3rd ALHR in the hand drawn map at Post Citation: Mapping the 3rd LHR attack at Magdhaba - 23 December 1916. Because of these two different methodoologies in constructing maps, much confusion has crept into the commentaries when the fall of Magdhaba is described. While all accounts agree on No. 1 Redoubt, No. 2 Redoubt in the Falls account is to the south east on the same side of the wadi while in the Gullett account is directly to the east over the other side of the wadi. Hence the fall of No. 2 Redoubt, the second to fall in the 3rd LHR and Falls account is in actuality Redoubt No. 5 in the Gullett account of the same incident.
This layout of Falls is also employed in the Turkish account of Magdhaba. The following map was published in Turkish General Staff, Birinci Dünya Harbi'nde Turk harbi. Sina - Filistin cephesi, Harbin Bai??Ÿlangicindan A?kinci Gazze Muharebeleri Sonuna Kadar, IVncu Cilt 1nci Kisim, Ankara 1979. (Sinai-Palestine Front from the beginning of the war to the end of the 2nd Gaza Battle, Volume 4, 1st Part.) Here is their map accompanying the account.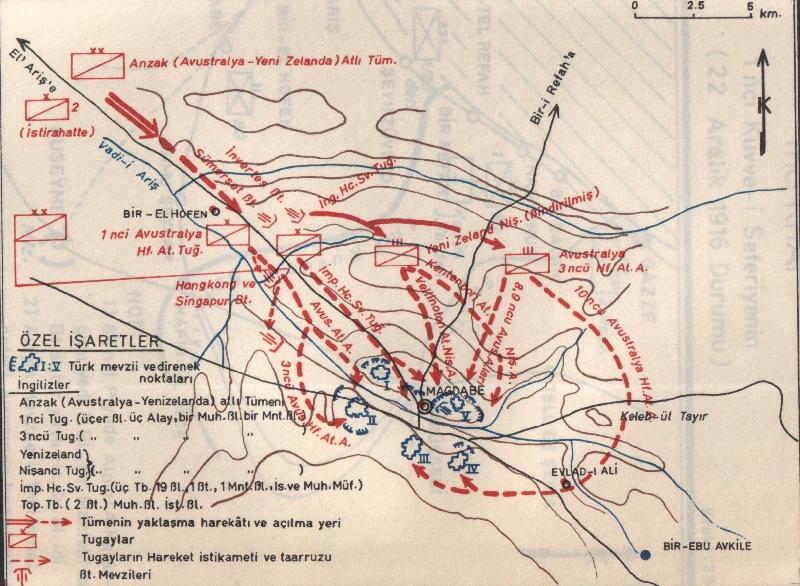 Turkish account from the Turkish General Staff

In giving an account of the Magdhaba story, the circumstances raised in this note indicates the absolute necessity to provide a map which clearly details the methodology employed in the text. It is the only way a reader can reasonably follow the account without the confusion that could possibly occur without these indications of redoubt numbering. As a note, most Australian accounts utilise the numerical methology employed by Gullett.
Further Reading:
The Battle of Magdhaba, Sinai, December 23, 1916, Roll of Honour, Australia and New Zealand
Battles where Australians fought, 1899-1920
---
Citation:
The Battle of Magdhaba, Sinai, December 23, 1916, Comparison of Maps, Australia, Britain and Turkey
Posted by Project Leader at 12:01 AM EAST
Updated: Tuesday, 10 November 2009 9:37 PM EAST