The Battle of Anzac Cove, Turkish OC of 1/33 IR diary up until his death, 30 April 1915, Part 4
Topic: Tk - Bks - 1/33IR
The Battle of Anzac Cove
Turkish OC of 1/33 IR diary up until his death, 30 April 1915
Part 4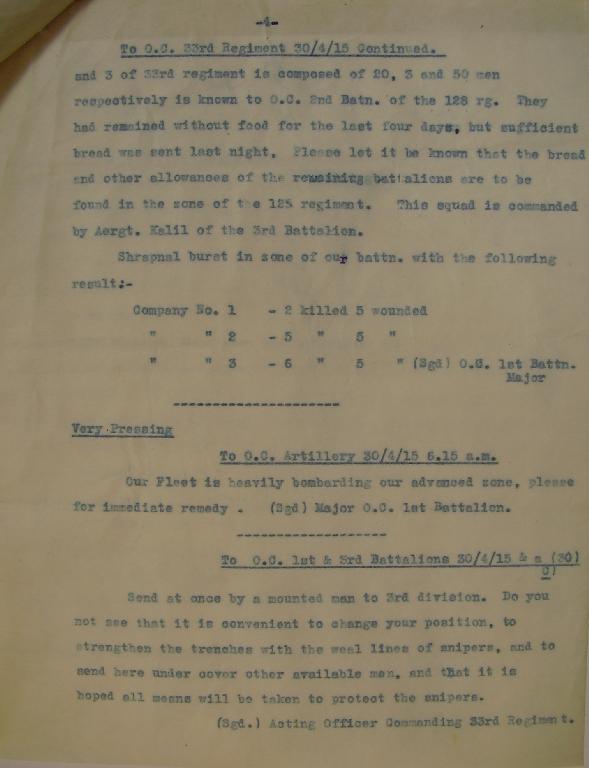 Extract from a diary found on a dead Turkish Officer, the major commanding 1st Battalion, 33rd Infantry Regiment, Gallipoli, 30 April 1915.
Note: That the strength of the following squads of the Battalion, No's. 1, 2 and 3 of 33rd Regiment is composed of 20, 3 and 50 men respectively, is known to OC 2nd Battalion of the 128th Regiment. They have remained without flood for the last four days, but sufficient bread was sent last night. Please let it be known that the bread and other allowances of the remaining battalions are to be found in the zone of the 125th Regiment. This squad is commanded by Sergt Kalil of the 3rd Battalion.

Shrapnel burst in some of our Battalion with the following result:



| | | |
| --- | --- | --- |
| Company | Killed | Wounded |
| No. 1 | 2 | 5 |
| No. 2 | 5 | 5 |
| No. 3 | 5 | 5 |

Very Pressing

To OC Artillery, 30 May 1915, 6.15 am.

Our fleet is heavily is heavily bombarding our advanced zone, please for immediate remedy.
(Sgd) Major, OC 1st Battalion.



To OC 1st and 3rd Battalions 30 April 1915 and CO.

Send at once by mounted man to 3rd division. Do you not see that it is convenient to change your position, to strengthen the trenches with the weal lines of snipers, and to send here under cover other available men, and that it is hoped all means will be taken to protect the snipers.

(Sgd) Acting Officer Commanding 33rd Regiment.

While things may not have been goood for the troops at Anzac, the above document indicates things were even worse for the Turks trying their best to mount a defence and offence. This document speaks of trooops starving and problems with friendly fire which is just as devastating as hostile fire.
Previous: Turkish OC of 1/33 IR diary up until his death, 30 April 1915, Part 3
Next: Turkish OC of 1/33 IR diary up until his death, 30 April 1915, Part 5
Further Reading:
Turkish OC of 1/33 IR diary up until his death, 30 April 1915
The Battle of Anzac Cove, Gallipoli, 25 April 1915
1/33rd IR Roll of Honour, April 1915
The Battle of Anzac Cove, Gallipoli, 25 April 1915, Turkish Roll of Honour
Battles where Australians fought, 1899-1920
---
Citation: The Battle of Anzac Cove, Turkish OC of 1/33 IR diary up until his death, 30 April 1915, Part 4
Posted by Project Leader at 12:01 AM EADT
Updated: Tuesday, 6 April 2010 2:37 PM EADT