Hand drawn map of the 4th LHB prior to charging into Beersheba, 31 October 1917
Topic: BatzP - Beersheba
Below is part of a hand drawn map detailing the organisation of the 4th Light Horse Brigade prior to making the famous charge. The map was drawn by Lieutenant Frank Raymond Massie, adjutant of the 12th Light Horse Regiment.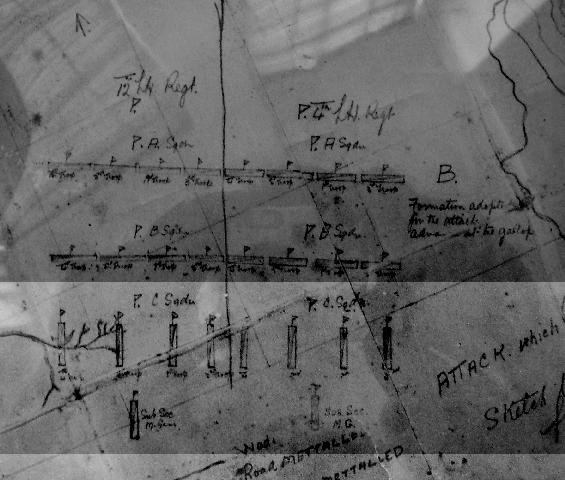 The Massie Map
[Click on map for a larger version.]
The map places in great detail the formation of the various regiments. It drills down to the location of each troop and its relationship to the charge. Apart from the incredible detail, it shows that the first two lines were abreast while on the last line, the two "C" Squadrons are in line of column rather than abreast. The two machine gun subsections are located behind the lines of light horsemen, an issue that is significant in dealing with some subsquent controversies over the charge.
The credibility of this map is high as it was drawn up within days after the charge by a person who participated in the charge. The work of Massie within the 12th LHR indicates that his recall of the events would be scrupulous and carefully applied to produce the most accurate map possible.
---
Citation: Hand drawn map of the 4th LHB prior to charging into Beersheba, 31 October 1917
Posted by Project Leader at 4:58 PM EADT
Updated: Wednesday, 24 September 2008 9:49 AM EADT