9th LHR Routine Order No 851, 22 January 1918, Entitlement to wear the Anzac "A" Badge
Topic: AIF - Badges
9th Light Horse Regiment

Routine Order No 851, 22 January 1918
Entitlement to wear the Anzac "A" Badge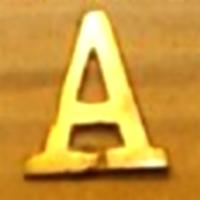 Anzac "A" Badge
Apart from the War Diary which presents a reflected view of Regimental history, one of the best sources of understanding the immediate challenges facing a regiment is to be found in the Routine Orders. They are a wealth of detail.
9th Light Horse Regiment Routine Order No 851, 22 January 1918, is important in that it lists all the surviving Gallipoli veterans in that Regiment on that date. At the time, by gazetting the relevant men in this manner, it allowed them to wear the "A" badge in the middle of their regimental colour patch.
This is the particular Routine Order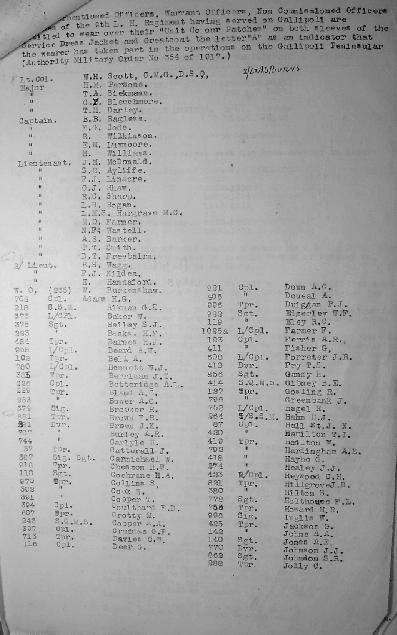 9th LHR Routine Order No 851, 22 January 1918, p. 3.
[Click on page for a larger version.]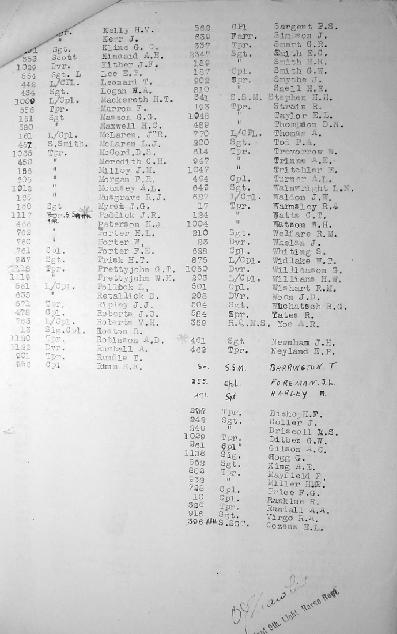 9th LHR Routine Order No 851, 22 January 1918, p. 4.
[Click on page for a larger version.]
The list of Gallipoli Veterans within the 9th Light Horse Regiment as per Routine Order No 851, 22 January 1918 included these men.
Anzac "A" Badge Recipients

Hugh George ADAMS.

George Ernest AIKMAN.

William ANDREWS.

William Henry ANDREWS.

Charles ARBLASTER.

Sydney Hamilton AYLIFFE.

Samuel John BAILIE.

William BAKER.

Harry Forrest BANKS.

Titan BARRINGTON.

Arthur William BEARD.

Arthur Augustine BELL.

William John BENNETT.

John Thompson BERRIMAN.

Arthur Leslie BETTERIDGE.

Harold Frank BISHOP.

Arthur Charles BLAND.

Felix Baron BOCKELBERG.

George Baron BOCKELBERG.

Aubrey Oswald BOWER.

Roy BROOKER.

Francis George BROWN.

John Kennard BROWN.

Angus Robert BURLEY.

Harold Francis CARLYLE.

William CARMICHAEL.

James CATTERALL.

Hurtle William CHESSON.

Hugh Angus COCHRANE.

Arthur Thomas COLLER.

Sidney COLLINS.

William Arthur Leslie COOK.

Arthur Alderson COOPER.

Thomas COOPER.

Eric Osborne COULTHARD.

Ernest Lindsay COZENS.

Maurice CROTTEY.

George Frederick CRUDDAS.

Cyril William DAVIES.

George Henry DEER.

George Wilfred DIBBEN.

Arthur DOUEAL.

Arthur Christopher DOWN.

Leonard Seagram DRISCOLL.

Paul Joseph DUIGAN.

William Frederick EDGERLEY.

Rayston Cooper ELEY.

Frank FARMER.

Archibald Roy FERRIS.

George Fred FISCHER.

John Lester FOREMAN.

Joseph Raymond FORRESTER.

Thomas FRY.

Horace GANDY.

Bernard Edward GIBNEY.

Alan Clifford GILSON.

Roy GOSLING.

John GREENBANK.

William James GRIBBLE.

George Edmund HAGEL.

Howard James HAHN.

Noell St John HALL.

Thomas Ian HAMILTON.

William HAMILTON.

Arthur Edward HARDINGHAM.

George James HAYHOE.

Joshua James HEALEY.

Charles Spearman HEYWOOD.

Joseph D HILLGROVE.

Sydney HILTON.

Ronald George HOGG.

Frank Lewis HOLTHOUSE.

Harry Raymond HOWARD.

William INGLIS.

George Alexander JACKSON.

Arthur Alfred JOHNS.

Joseph James JOHNSON.

Stanley Richard JOHNSON.

Charles JOLLY.

Albert Edward JONES.

Gordon James KEARNEY.

Harold Vernon KELLY.

James KERR.

Archibald KINCAID.

Albert Ernest KING.

John Fleming KITHER.

George Charles KLINE.

Ernest Percy LEE.

Thomas LEONARD.

William Alexander LOGAN.

Henry Thomas MACKERETH.

Francis Leonard MARRON.

Gerald Gustave MASSON.

Haswell Charles MAXWELL.

Frank MAYFIELD.

Donald Spence MCCORD.

James Ross MCLAREN.

John Lawrence MCLAREN.

Charles Hayden MEREDITH.

Harold Edgar MILLER.

James Mclntyre MILLOY.

Charles Leslie MITCHELL.

Frederick Richard MORGAN.

Allen Lorimor MOUNSEY.

Rosalyn James MUSGRAVE.

Royal John MYREN.

John Hovenden NEWNHAM.

Edward Pringle NEYLAND.

Joseph Ralph PADDICK.

Alfred PARKER.

Harold PATERSON.

Lawrence POLLOCK.

Frank PORTER.

Henry Leonard PORTER.

William Allen PORTER.

Gillard John PRETTEJOHN.

Walter Henry PRETTEJOHN.

Frederick Gregory PRICE.

Harold Tennyson PRISK.

Arthur Albert RANDALL.

Reginald RANKINE.

David RETALLICK.

James John RIPLEY.

James Oxen ROBERTS.

William Henry ROBERTS.

Arnold RUMBALL.

Timothy RUNDLE.

Henry Edward RUNN.

Percy Samuel SARGENT.

Horace Oliver William SHORT.

Gavin SHUTTLEWORTH.

John SIMPSON.

Gilby Roy SMART.

Egbert Charles SMITH.

George Victor SMITH.

Hubert Roy SMITH.

Thomas SMITH.

James Norman SMYTH.

Harold Edwin SNELL.

Henry Herbert STEPHEN.

Robert STRAIN.

Edward Leonard TAYLOR.

Angus THOMAS.

David Norman THOMPSON.

Phillip TOD.

William TREVORROW.

Arthur Ernest TRINNE.

Eddil TRITHSCHLER.

Arthur Leslie TURNER.

Roland Arthur VIRGO.

Leonard Nelson WAINWRIGHT.

John Wilberforce WALDON.

Reginald Alanby WAMSLEY.

William Henry WATSON.

Claude Thomas WATTS.

Raymond Meredith WELFARE.

John Lynne WHARTON.

Joseph WHELAN.

Stanley WHITING.

William Thomas WIDLAKE.

Horace William WILLIAMS.

George WILLIAMSON.

Robert Watmaugh WISHART.

William Ferguson WOOD.

John Dunstan WOON.

Benjamin George WUCHATACH.

Richard YATES.

Albert Roy YEO.

William YOULA.
The wearing of the Anzac "A" Badge is illustrated in the picture below.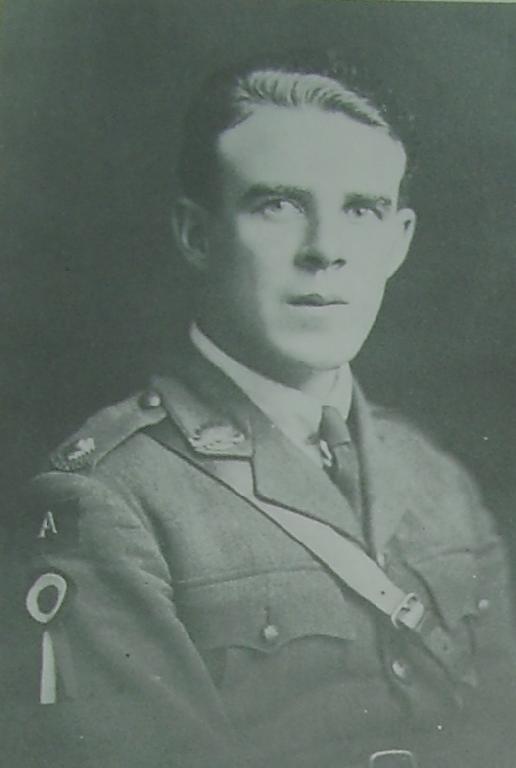 Light Horse Officer with Anzac "A" and 1914 Leave Rosette
[From: Cossum, Australian Army Badges, p. 57.]
The men wore the "A" with great pride and jealously guarded their right to wear it. During the 20's and 30's, there are many letters from the various RSL branches seeking information about a particular ex-serviceman and his right to wear the "A".
Further Reading:
Medals and Badges awarded to the Light Horse
Battles where Australians fought, 1899-1920
---
Citation: 9th LHR Routine Order No 851, 22 January 1918, Entitlement to wear the Anzac "A" Badge
Posted by Project Leader at 8:09 PM EADT
Updated: Monday, 1 March 2010 12:13 PM EAST