New South Wales Imperial Bushmen, War Diary, 3 July 1900
Topic: BW - NSW - NSWIB
NSWIB
New South Wales Imperial Bushmen
War Diary, 3 July 1900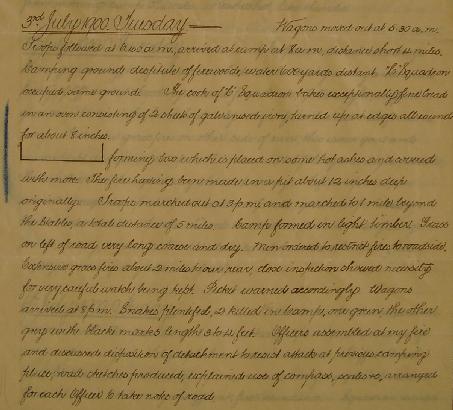 New South Wales Imperial Bushmen War Diary, 3 July 1900.
This is an extract from the War Diary written by Major David Miller, Adjutant of the New South Wales Imperial Bushmen who arrived in the Mozambique port of Biera and then moved to Rhodesia as part of the journey for deployment in South Africa to see action in the Boer War.
3 July 1900 - Tuesday

Reveille at 5.30. Squadrons marched out at 6.55 a.m. leading horses arrive at wagons 4 miles distance at 8.20 a.m., horses watered and linked; had luncheon; Troops moved out at 3 arrived at Little Sebakive River at 5 p.m., camped. Had campfire, distance from morning camp 5½. Weather hot, like thunder. Wagons moved out at 5.30 a.m.. Troops followed at 6.40 a.m., arrived at camp at 8 a.m., distance short 4 miles. Camping grounds destitute of firewood, water 600 yards distant/ "C" Squadron occupied same ground.

The cook of "C" Squadron bakes exceptionally fine bread in an oven consisting of 2 sheets of galvanised iron turned up at the edges all round for 8 inches forming box which is placed on some hot ashes and covered with more. The fire having been made in a pit about 12 inches deep originally.

Troops marched out at 3 p.m. and marched to 1 mile beyond the Stables, a total distance of 5 miles. Camp formed in light timber. Grass on left of road very long, coarse and dry. Men ordered to restrict fires to roadside.

Extensive grass fires about 2 miles to our rear. Close inspection showed necessity for careful watch being kept. Picket warned accordingly. Wagons arrived at 8 p.m.. Snakes plentiful, 2 killed in Camp, one green, the other grey with black marks, length 3 to 4 feet.

Officers assembled at my fire and discussed disposition of detachment to resist attack at previous camping place; road sketches produced, explained use of compass, and arranged for each officer to take notes of road.



This entry is rather filled with some interesting discoveries, the chief observation related to the ability of the "C" Squadron cook as a bread maker. Miller describes in detail the construction of the cook's bush oven. On a more serious note, the contingent is beginning to feel a sense of unease as they approach potentially hostile territory and so they discuss plans to protect the column from any unexpected attacks.
Previous: War Diary 2 July 1900, new letter
Next: War Diary, 4 July 1900
Further Reading:
New South Wales Imperial Bushmen
New South Wales Imperial Bushmen, Roll of Honour
Battles where Australians fought, 1899-1920
---
Citation:
New South Wales Imperial Bushmen, War Diary, 3 July 1900
Posted by Project Leader at 12:01 AM EADT
Updated: Sunday, 13 June 2010 9:44 PM EADT