New South Wales Imperial Bushmen, War Diary, 17 July 1900
Topic: BW - NSW - NSWIB
NSWIB
New South Wales Imperial Bushmen
War Diary, 18 July 1900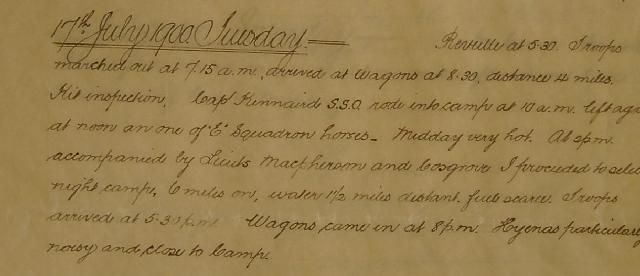 New South Wales Imperial Bushmen War Diary, 17 July 1900.
This is an extract from the War Diary written by Major David Miller, Adjutant of the New South Wales Imperial Bushmen who arrived in the Mozambique port of Biera and then moved to Rhodesia as part of the journey for deployment in South Africa to see action in the Boer War.
17 July 1900 - Tuesday

Reveille at 5.30. Troops marched out at 7.15 a.m., arrived at wagons at 8.30, distance 4 miles. Kit inspection. Captain Kinnaird, S.S.O. rode into camp at 10 a.m.. Left again at noon on one of "E" Squadron horses. Midday very hot. At 2 p.m. accompanied by Lieutenants Macpherson and Cosgrove. I proceeded to select night camp 6 miles on. Water 1½ miles distant. Fuel scarce. Troops arrived at 5.30 p.m.. Wagons came in at 8 p.m.. Hyenas particularly noisy and close to camp.

The column marched on through the heat. There was little fuel to cook meals and at night the heyena chorus created an unwelcome accompanyment.
Previous: War Diary, 16 July 1900
Next: War Diary, 18 July 1900
Further Reading:
New South Wales Imperial Bushmen
New South Wales Imperial Bushmen, Roll of Honour
Battles where Australians fought, 1899-1920
---
Citation:
New South Wales Imperial Bushmen, War Diary, 17 July 1900
Posted by Project Leader at 12:01 AM EADT
Updated: Sunday, 13 June 2010 5:40 PM EADT