Signal, 7 May 1915, MGS, Movement to Gallipoli, Page 2
Topic: AIF - 3B - 3 LHB Sigs
One of the most complete set of Light Horse unit signals at Gallipoli belongs to the 3rd Light Horse Brigade. Signals provide a window into the unvarnished form of history. These are the comments made by people who had important needs that required immediate attention. As such, they tell a story about a campaign that existed before the occurence of the newspaper reports leading to the Official Histories and all the other works that followed. Since they do not originate in a vacuum, it is the immediacy of the signal in a dense communication transfer that gives it a unique currency. It is a moment in time. We need all the other items such as the War Diary, Routine Orders and lastly, the published books to get a fully appreciation of the humble signal.
To ensure that this appreciation is available to many, over the coming months, a series of signals will be posted commencing from April till December.
---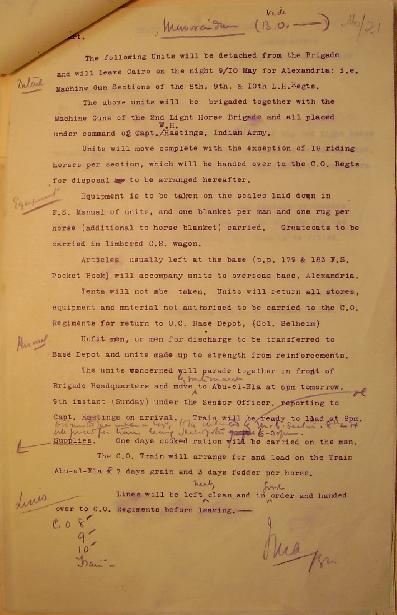 Signal, 7 May 1915 to Machine Gun Sections regarding movements to Gallipoli, Page 2.
[Click on page for a larger print version.]
---
Citation: Signal,
7 May 1915, MGS, Movement to Gallipoli, Page 2
Posted by Project Leader at 4:31 PM EADT
Updated: Thursday, 14 August 2008 8:37 PM EADT