Ataturk Memorial Garden, Canberra, Part 2
Topic: Gen - Ataturk Pk, CNB
Ataturk Memorial Garden, Canberra
Part 2

A Walk Through the Park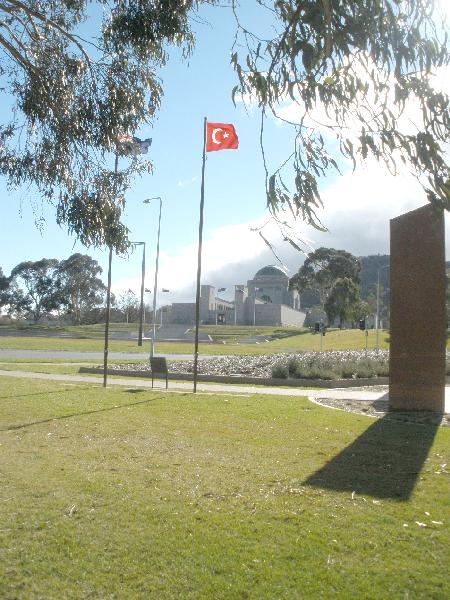 Ataturk Memorial Garden and the Australian War Memorial
[Click on picture for larger version.]
After a walk through the copse of gum trees, the walk opens up to reveal a grassy space with the Ataturk Memorial Garden overlooked by the Australian War Memorial.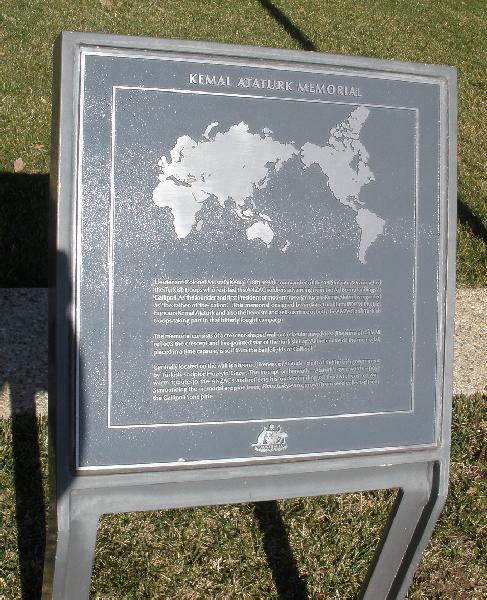 The Kemal Ataturk Plaque

[Click on picture for larger version.]
The plaque reads:
Lieutenant Colonel Mustafa Kemal (1881-1938) commander of the 19th Infantry Division led the Turkish troops who resisted the ANZAC soldiers advancing from the Ari Burnu landings at Gallipoli. As the founder and first President of modern Turkey, Mustaf Kemal Ataturk is regarded as the 'father of the nation'. This memorial designed by architecture firm PDCM Pty Ltd, honours Kemal Ataturk and also the heroism and self-sacrifice of both the ANZAC and Turkish troops taking part in that bitterly fought campaign.

The memorial consists of a crescent-shaped wall on a circular paved are. The form of the wall reflects the crescent and five-pointed star of the Turkish flag. At the centre of the memorial, placed in a time capsule, is soil from the battlefields of Gallipoli.

Centrally located on the wall is a bronze likeness of Ataturk - a gift of the Turkish government by the Turkish sculptor Hüseyin Gezer. The inscription beneath - Ataturk's own words - pays warm tribute to the ANZACs and reflects his understanding of the awful cost of war. Surrounding the memorial are pine trees, Pinus halepensis, grown from seed collected from the Gallipoli 'lone pine'.

For the usual audience, a plaque was erected between the two flags detailing the reason for the park. It is well workth reading.
Previous: Ataturk Memorial Garden, Canberra, Part 1
Next: Ataturk Memorial Garden, Canberra, Part 3
Further Reading:
Ataturk Memorial Garden, Canberra
The Battle of Anzac Cove, Gallipoli, 25 April 1915
Battles where Australians fought, 1899-1920
---
Citation:
Ataturk Memorial Garden, Canberra, Part 2
Posted by Project Leader at 12:01 AM EAST
Updated: Sunday, 2 May 2010 9:04 AM EADT