Ataturk Memorial Garden, Canberra, Part 3
Topic: Gen - Ataturk Pk, CNB
Ataturk Memorial Garden, Canberra
Part 3
About Ataturk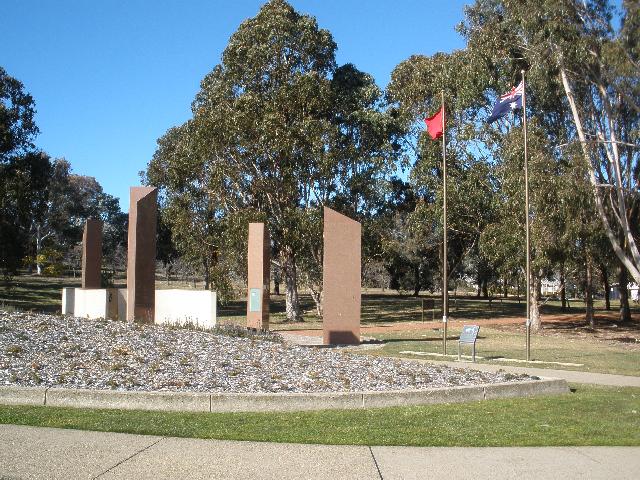 Entering Ataturk Memorial Garden.
[Click on picture for larger version.]
The above picture is of the full memorial. The five red pillars, each representing the points of the star upon the Turkish flag, stand as sentinels, overlooking the scene. While appearing large when close up, at a distance they are subsumed by the gum trees surrounding the garden. It is a similar message to that of Ataturk. The memorial is part of Australian soil. The sons of Turkey are also remembered in friendly soil.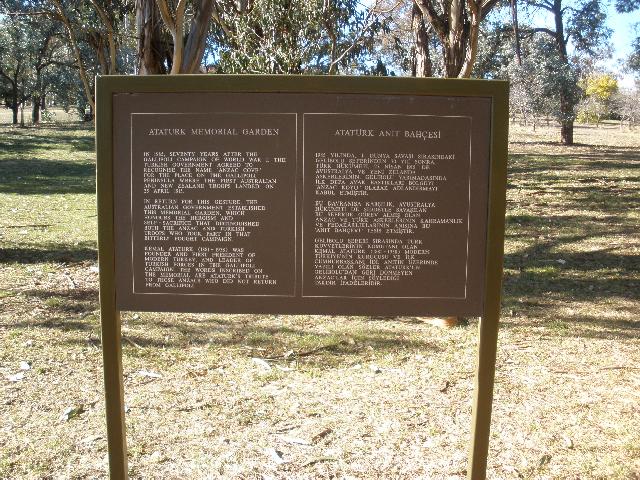 Ataturk Memorial Garden bilingual explanatory sign.
[Click on picture for larger version.]
The sign reads:
Ataturk Memorial Garden

In 1985, Seventy years after the Gallipoli Campaign of World War 1, the Turkish Government agreed to recognise the name "Anzac Cove" for the place on the Gallipoli Peninsula where the first Australian and New Zealand troops landed, on 25 April 1915.

In return for this gesture, the Australian Government established this memorial garden which honours the heroism and self-sacrifice that distinguished both the ANZAC and Turkish troops who took part in that bitterly fought campaign.

Kemal Ataturk (1881 - 1938) was founder and first President of modern Turkey, and leader of Turkish forces in the Gallipoli Campaign. The words inscribed on the memorial are Ataturk's tribute to those Anzacs who did not return from Gallipoli.

One noticable item is that most information at the Ataturk Memorial Garden is the number of bilingual signs.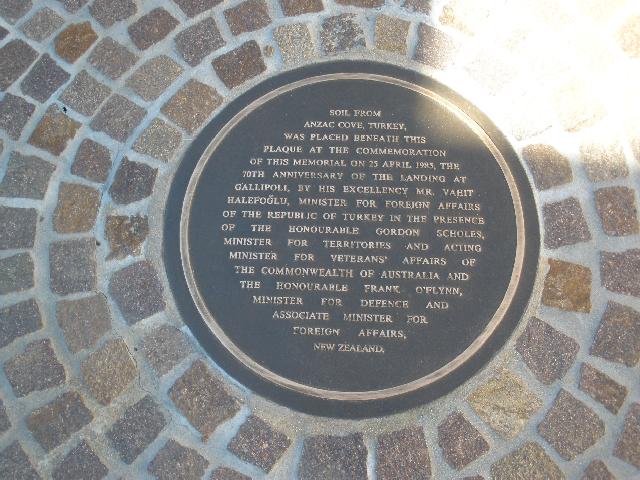 The Creation Story.

[Click on picture for larger version.]
The plaque reads:
Soil from Anzac Cove, Turkey was placed beneath this plaque at the commemoration of this memorial on 25 April 1985, the 70th anniversary of the landing at Gallipoli, by His Excellency Mr. Vahit Halefoğlu, Minister for Foreign Affairs of the Republic of Turkey in the presence of the Honourable Gordon Scholes, Minister for Territories and Acting Minister for Veterans' Affairs of the Commonwealth of Australia and the Honourable Frank O'Flynn, Minister for Defence and Associate Minister for Foreign Affairs, New Zealand.
In the centre of the courtyard described by stone semi circular wall is a plaque giving a full explanation of the construction impetus behind the Ataturk Memorial Garden.
Previous: Ataturk Memorial Garden, Canberra, Part 2
Next: Ataturk Memorial Garden, Canberra, Part 4
Further Reading:
Ataturk Memorial Garden, Canberra
The Battle of Anzac Cove, Gallipoli, 25 April 1915
Battles where Australians fought, 1899-1920
---
Citation:
Ataturk Memorial Garden, Canberra, Part 3
Posted by Project Leader at 12:01 AM EAST
Updated: Sunday, 2 May 2010 8:44 AM EADT