Ataturk Memorial Garden, Canberra, Part 4
Topic: Gen - Ataturk Pk, CNB
Ataturk Memorial Garden, Canberra
Part 4

Ataturk and his words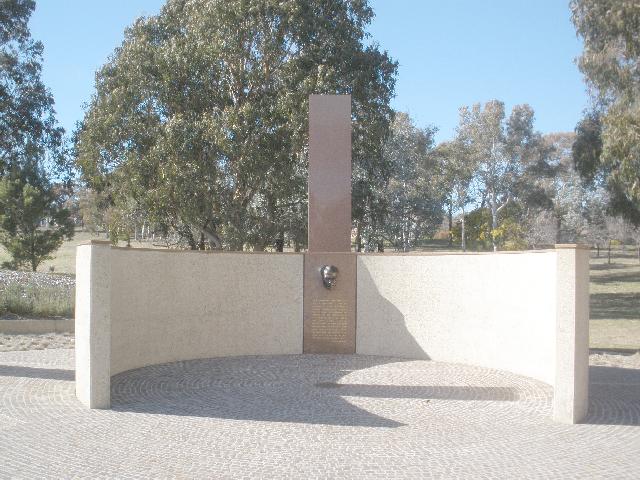 The Ataturk Memorial.
[Click on picture for larger version.]
This marvelous piece of public sculpture is very embracing. With Ataturk the centrepiece, the semi circular wall, symbolic of the crescent, appears as though they are like arms embracing all who enter.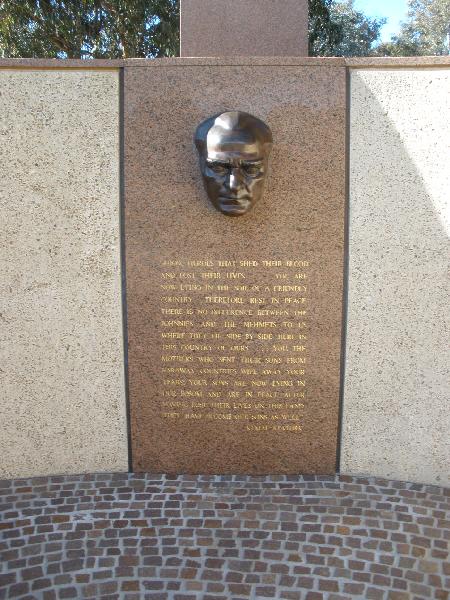 Ataturk's Gallipoli Monument Quotation.

[Click on picture for larger version.]
It reads:
Those heroes that shed their blood and lost their lives... You are now lying in the soil of a friendly country. Therefore rest in peace. There is no difference between the Johnnies and the Mehmets to us where they lie side by side now here in this country of ours... you, the mothers, who sent their sons from faraway countries wipe away your tears; your sons are now lying in our bosom and are in peace. After having lost their lives on this land. They have become our sons as well.
Ataturk's quotation on the Gallipoli Monument is so universal in sentiment that it translates well into any other language.
Ataturk's poignant statement becomes filled with meaning when the casualty lists are examined. Older Anglophone histories ignore this call but as time has gone on, the name "Turk" has moved from being an amorphous but unidentifiable word to names of actual men. On this site, the aim is to humanise both sides of the conflict. In doing so, a revised casualty list from the futile charge of the 3rd Light Horse Brigade at the Nek on 7 August 1915 has been produced which includes all the known names from the British, Australian and Turkish soldiers who died as a consequence of that day. The composition of the list truly reflects Ataturk's sentiments.
The Nek, Gallipoli, 7 August 1915, Roll of Honour, Australian, British and Turkish
While this is an end to the presentation of the Ataturk Memorial Garden, Canberra, it is not an end to a long relationship which will remain so long as these two nations exist.
Previous: Ataturk Memorial Garden, Canberra, Part 3
Next: Ataturk Memorial Garden, Canberra
Further Reading:
Ataturk Memorial Garden, Canberra
The Battle of Anzac Cove, Gallipoli, 25 April 1915
Battles where Australians fought, 1899-1920
---
Citation:
Ataturk Memorial Garden, Canberra, Part 4
Posted by Project Leader at 12:01 AM EAST
Updated: Sunday, 2 May 2010 8:43 AM EADT