New South Wales Imperial Bushmen, War Diary, 6 August 1900
Topic: BW - NSW - NSWIB
NSWIB
New South Wales Imperial Bushmen
War Diary, 6 August 1900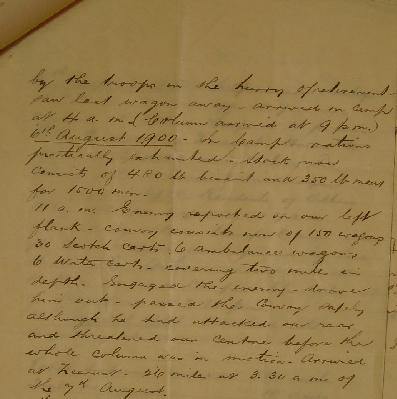 New South Wales Imperial Bushmen War Diary, 6 August 1900.
This is an extract from the War Diary written by Major David Miller, Adjutant of the New South Wales Imperial Bushmen who arrived in the Mozambique port of Biera and then moved to Rhodesia as part of the journey for deployment in South Africa to see action in the Boer War.

6th August 1900 - [Sunday]

In Camp. Rations practically exhausted. Stock now consists of 480 lb biscuit and 350 lb meat for 1,500 men.

11 a.m. Enemy reported on our left flank - Convoy consists now of 150 wagons, 30 Scotch carts, 6 ambulance wagons, 6 water carts - covering two miles in depth. Engaged the enemy - drove him out - passed the Convoy safely although he had attacked our rear and threatened our centre before the whole column was in motion. Arrived at Zeerust - 26 miles at 3.30 a.m. of the 7th August.


Miller and the supply column flee while being under attack by the Boers. Rations are short for the men but the column arrives safely to Zeerust. New stores are sought for the men's rations.
Previous: War Diary, 4 August 1900, p. 2
Next: War Diary, 7 August 1900
Further Reading:
New South Wales Imperial Bushmen
New South Wales Imperial Bushmen, Roll of Honour
Battles where Australians fought, 1899-1920
---
Citation:
New South Wales Imperial Bushmen, War Diary, 6 August 1900
Posted by Project Leader at 12:01 AM EADT
Updated: Sunday, 13 June 2010 6:14 PM EADT