New South Wales Imperial Bushmen, War Diary, 8 August 1900
Topic: BW - NSW - NSWIB
NSWIB
New South Wales Imperial Bushmen
War Diary, 8 August 1900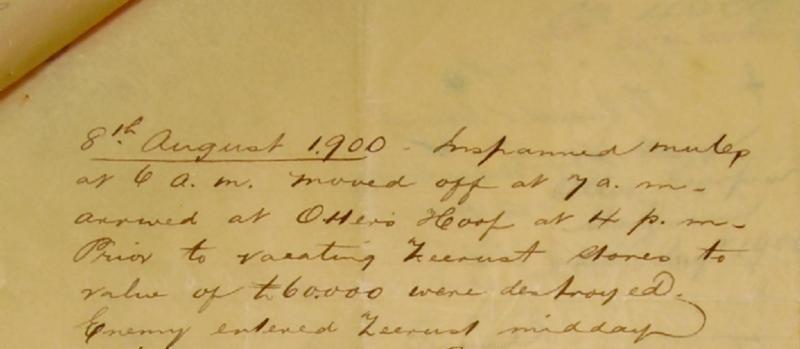 New South Wales Imperial Bushmen War Diary, 8 August 1900.
This is an extract from the War Diary written by Major David Miller, Adjutant of the New South Wales Imperial Bushmen who arrived in the Mozambique port of Biera and then moved to Rhodesia as part of the journey for deployment in South Africa to see action in the Boer War.
8th August 1900 - [Tuesday]

Inspanned mules at 6 a.m.. Moved off at 7 a.m.. Arrived at Otter's Hoop at 4 p.m.. Prior to vacating Zeerust Stores to value of £60,000 were destroyed. Enemy entered Zeerust midday.

Miller burns £60,000 worth of supplies and then abandons Zeerust to flee to Ottoshoop.
Previous: War Diary, 7 August 1900
Next: War Diary, 9 August 1900
Further Reading:
New South Wales Imperial Bushmen
New South Wales Imperial Bushmen, Roll of Honour
Battles where Australians fought, 1899-1920
---
Citation:
New South Wales Imperial Bushmen, War Diary, 8 August 1900
Posted by Project Leader at 12:01 AM EADT
Updated: Sunday, 13 June 2010 6:20 PM EADT