50 Regimental Quartermaster Sergeant Robert Hamilton, MM, 1st Australian Light Horse Regiment, "C" Squadron.
Topic: AIF - 1B - 1 LHR
50 Regimental Quartermaster Sergeant Robert Hamilton, MM, 1st Australian Light Horse Regiment, "C" Squadron.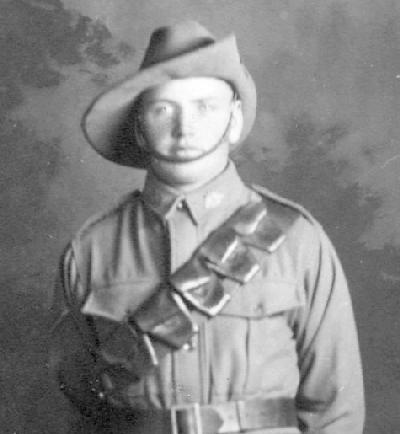 50 Lance Corporal Robert Hamilton

Robert HAMILTON brief military biographical details from The AIF Project:

Regimental number : 50
Religion: Presbyterian
Occupation: Labourer
Address: Urana, New South Wales
Marital status: Single
Age at embarkation: 21
Next of kin: Stonehouse, Lanarkshire, Scotland
Enlistment date: 10 September 1914
Rank on enlistment: Private
Unit name: 1st Light Horse Regiment, C Squadron
AWM Embarkation Roll number: 10/6/1
Embarkation details: Unit embarked from Sydney, New South Wales, on board Transport A16 Star Of Victoria on 20 October 1914
Rank from Nominal Roll: Regimental Quartermaster Sergaent
Unit from Nominal Roll: 1st Light Horse Regiment
Recommendations (Medals and Awards): Military Medal
Recommendation date: 4 November 1917
Fate: Discharged 15 March 1919
Medals: Military Medal, 14/15 Star, British War Medal and Victory Medal
Of course, there is a bigger story behind this man than the bare facts reveal.
Born at Kittymuir Farm, Stonehouse, Lanarkshire, Scotland on the 30 December 1892, Hamilton grew up tough and resilient.
At the tender age of 16, in 1909, he sailed for New Zealand to find work. A few years later, in 1912, he enlisted as a volunteer in the New Zealand Territorial formation, the Otago Mounted Rifles based around the Dunedin region. The Otago Mounted Rifles was composed of the following regional squadrons: the Southland Mounted Rifles, the Otago Hussars, and the North Otago Mounted Rifles. Since Hamilton's bank account was located at Invercargill, it is reasonable to assume that was the region and town close to where he worked and lived. If that is so, then it is highly likely the Territorial squadron Hamilton served with was the 7th (Southland) Squadron, Otago Mounted Rifles.
Hamilton's first camp began in July 1912. A photographer was there to take a picture of this event.
Hamilton standing guard outside the Guard Tent on his first bivouac with the Otago Mounted Rifles.
Under the tent, various faces of men can be seen. These men include: Sergeant Paterson, Tpr Kerse, Tpr Turnbull, Tpr Edge, Tpr Watt, Cpl France, Buglar Paterson, and Cpl Kerse.
By 1914 Hamilton was working at Urana, NSW but was still a registered member of the Otago Mounted Rifles. When the Great War began, he was one of the very first men to put his name down to serve with the 1st Light Horse Regiment, then being formed and trained at Rosebery Park, Sydney. Hamilton was allocated the regimental number "50" on 28 August 1914 and allotted to the Machine Gun Section. However something happened which immpeded his enrolment to the regiment. Hamilton was obviously a man the officers wanted so his position was held open for him in the regiment although his place in the Machine Gun Section was taken by someone else. His problems seem to have been resolved by 11 October and duly allotted to the last squadron to be formed - "C" Squadron.

Routine Order No. 48, 14 October 1914 appointing Hamilton to "C" Squadron
After serving time in Egypt, the Light Horse volunteered to go to Gallipoli and fight as dismounted infantry. The 1st LHR embarked from Alexandria with 25 officers and 447 other ranks, 9 May 1915 on the HMAT Devonha for Gallipoli. The Regiment landed at 6.00am, 12 May 1915, some 200m south of Fisherman's Hut, ANZAC Cove. Their place at Gallipoli involved work around Pope's Hill where they remained for most of the campaign. The Regiment was evacuated from Gallipoli by 21 December1915 and sailed for Egypt.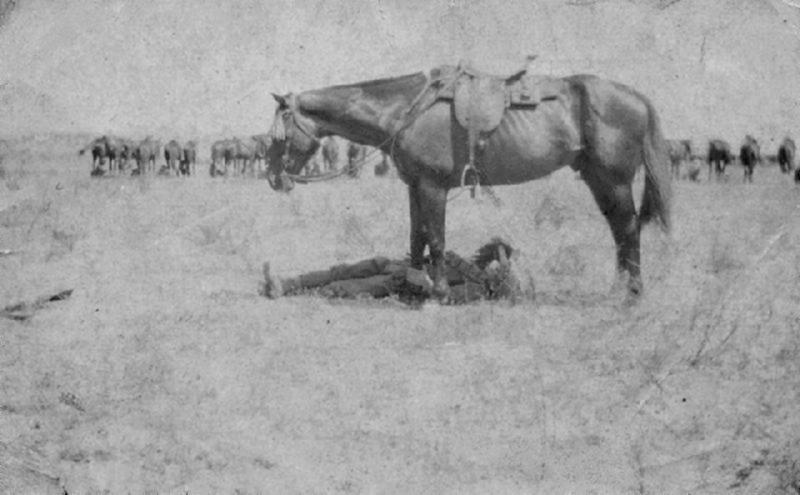 Hamilton taking a snooze under his horse just before going into action.

Hamilton followed his regiment throughout the Sinai and Palestine campaigns. After the opening of the Third Battle of Gaza with the taking of Beersheba, the next objective was Tel el Khuweilfeh where a battle ensued for almost the next week. It was a difficult and tough fight whereby the attacking units were attempting to dislodge Ottoman forces which were well entrenched around hill tops. The hills themselves provided little cover for the attacking force and thus winning this battle was accompanied by outstanding bravery and sacrifice. It was here that Hamilton was awarded a Military Medal for bravery. The citation reads:
On 3rd November 1917 at Tel el Khuweilfeh this NCO took forward a Hotchkiss gun detachment to a forward flank position and considerably helped to keep down the enemy's fire, and carried in a wounded man under very heavy fire. His coolness and bravery set a fine example to his men all day. Recommended by Lt Col Granville
On 12 November 1917 Hamilton was wounded in the neck at Jisr Esdud, a place north of Gaza. The wound was not serious enough to require evacuation so Hamilton remained on duty.
At the end of the war, Hamilton took UK leave and travelled to South Hampton on the HT Bermudian where he arrived 19 December 1918. Hamilton returned to Scotland and his parents in time for his 26th birthday, a five year veteran and a war hero. One can only imagine the jubilation in the Hamilton household in Stonehouse, Lanarkshire that Christmas and New Year. The next year, Hamilton applied for his discharge in the UK which was granted on 15 March 1919.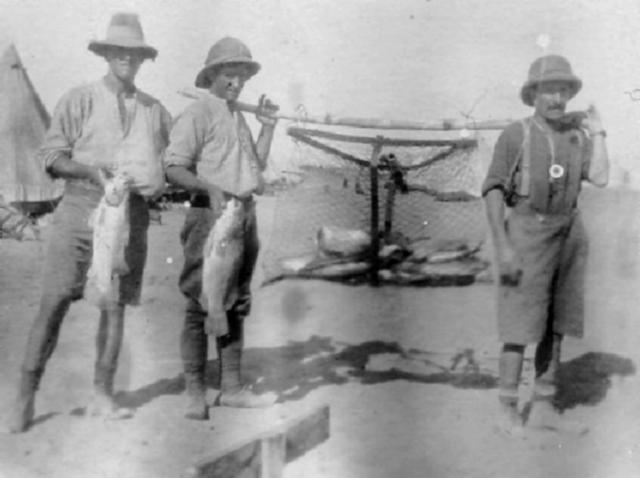 Hamilton displaying his passion for fishing.

He returned home to Stonehouse and married Annie Naismith (grandaughter of Robert Naismith author of Stonehouse Historical and Traditional) of Cross View. The couple established their family home at Hamilton Ferme at the Cross. They brought eight children into the world, they being Minnie, Robert, James, William, Ian, Douglas, Evelyn and Norman.

Hamilton, in partnership with his brother in law, James Watson of Thorndale, Manse Road, set up a bus company, The Admiral. They ran Lancier's from Strathaven to Cathedral Street in Glasgow. Eventually they gave up the service due to the evil practice by competitors of running buses a few minutes before their scheduled service. This practice still occurs to this very day.
After the bus business, Hamilton took over High lanrig Farm for a year. With the completion of the Council houses built in Newfield Road, Hamilton moved his family into 4 Newfield Road, December 1927. He bred Greyhounds, and had kennels down at the oilworks under the viaduct. His best dog was Avonhope, a prolific winner and nick named "The rent payer". In pursuit of his passion Hamilton took on work with Sam Park of Lesmahagow and his business partner George Reid of Larkhall. His role was as the Racing Manager and Handicapper at Larkhall Greyhound Stadium. He held this job from 1936 until 1964 when it closed.

At the outbreak of the Second World War, Hamilton was appointed Section Commander of the Local Defence Force, No 5 Coy, No 22 Platoon Section 1.
The platoon members names taken from his diary 26 August 1940 include David Brown, Alexander Bambrick, James Cryan, William C S Whitelaw, Henry McFarlane, David Finnie, George Harrison, Archibald Miller, David Miller, James Miller, Walter Mitchell, Henry Speirs, Andrew McLellan, Walter Lang, Thomas Moffat Hugh Boyle, John Whitelaw, and George Spence.
Hamilton's four eldest enlisted in the armed forces
L/Cpl W/ 217659 Minnie Hamilton, 11 September 1942 to 9 March 1946
Auxiliary Territorial Service; Attached 606 (Mixed) Heavy Anti Aircraft Bty Royal Artillery; Plotter operator on gun sites, South Coast of England and Newhaven.

Cpl Robert Hamilton 1942 to 1947, Royal Artillery served in India and Burma

WO2 James Hamilton 1942 to 1947; 1 year Royal Artillery, 4 years Royal Electrical and Mechanical Engineers, served in India

Lt Ian Hamilton 1944 to 1948; 1st Bn Seaforth Highlanders, served in India, Java and Malaya.

Hamilton retired in 1964, kept bee's, went fishing and carried out maintenance on the vehicles of his sons fruit & veg business and did some handicapping for Shawfield Stadium. Robert Hamilton died in 1970.
Acknowledgement: Many thanks to the kind assistance of William Mackie, the grandson of Robert Hamilton who kindly provided the photographs and biographical details for this entry. Also thanks to Phil for providing the information regarding the Otago Mounted Rifles.
Further Reading:
1st Australian Light Horse Regiment, AIF, History
1st Australian Light Horse Brigade
Otago Mounted Rifles, NZMRB, History
Australian Light Horse Order of Battle
---
Citation: 50 Regimental Quartermaster Sergeant Robert Hamilton, MM, 1st Australian Light Horse Regiment, "C" Squadron.
Posted by Project Leader at 10:57 PM EADT
Updated: Monday, 5 January 2009 11:06 AM EAST