3rd LHB, AIF, Gallipoli Signal No. 7, 1 June 1915
Topic: AIF - 3B - 3 LHB Sigs
3rd LHB, AIF
3rd Light Horse Brigade
Gallipoli Signal No. 7, 1 June 1915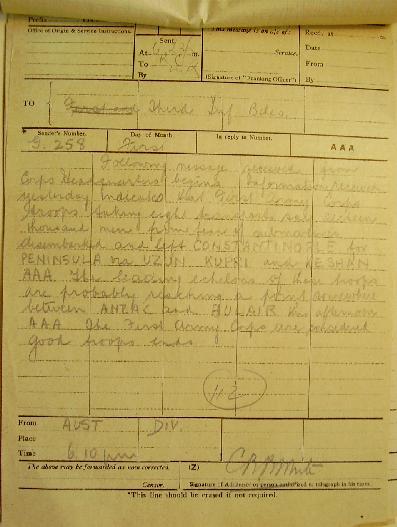 Gallipoli Signal No. 7, 1 June 1915
The transcription follows:
Sent at 6.23 pm
To Third Infantry Brigades
1 June 1915
Following message received from Corps Headquarters begins: Informaiton received yesterday indicates that first Army Corps troops taking eith transports say sixteen thousand men from fear of submarines disembarked and left Constantinople for Peninsular via Uzun Kupri and Keshan AAA The leading echelons of these troops are probably reachin a point somewhere between Anzac and Bulair this afternoon AAA The First Army Corps are considered good troops ends


From Australian Division
Time 6.10pm
CRB White


This is an interesting signal detailing an intelligence report forecasting the arrival of about 16,000 men from the 1st Corps to Gallipoli.
Note:
One of the most complete set of Light Horse unit signals at Gallipoli belongs to the 3rd Light Horse Brigade. Signals provide a window into the unvarnished form of history. These are the comments made by people who had important needs that required immediate attention. As such, they tell a story about a campaign that existed before the occurence of the newspaper reports leading to the Official Histories and all the other works that followed. Since they do not originate in a vacuum, it is the immediacy of the signal in a dense communication transfer that gives it a unique currency. It is a moment in time. We need all the other items such as the War Diary, Routine Orders and lastly, the published books to get a fully appreciation of the humble signal.
Further Reading:
3rd Light Horse Brigade Signals
Battles where Australians fought, 1899-1920
---
Citation:
Gallipoli Signal No. 7, 1 June 1915
Posted by Project Leader at 12:01 AM EADT
Updated: Wednesday, 28 July 2010 6:04 PM EADT