The Battle of Elands River, South Africa, 4 August 1900, Report by Major Tunbridge, 15 September 1900, File Note page 2
Topic: BatzB - Elands
The Battle of Elands River
South Africa, 4 August 1900
Report by Major Tunbridge, 15 September 1900, File Note page 2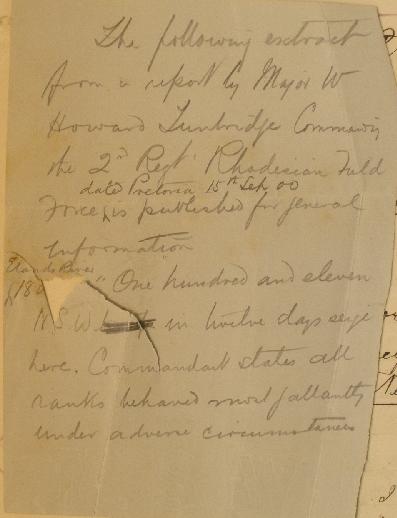 Report by Major Tunbridge, 15 September 1900, File Note page 2
On 15 September 1900, Major Tunbridge wrote a report of the action at Elands River for the NSW General Staff of which page 2 of the file note is transcribed below.
The following extract from a report by Major W Howard Tunbridge Commanding the 2nd Rhodesian Field Force dated Pretoria, 15th September 1900 is published for general information.

Elands River, Relieved 18 August.

One hundred and eleven NSW troops in twelve days seige here. Commandant states all ranks behaved most gallantly under adverse circumstances.

Previous: File Note page 1
Next: Report page 1
Further Reading:
The Battle of Elands River, South Africa, 4 August 1900
The Battle of Elands River, South Africa, 4 August 1900, Roll of Honour
Battles where Australians fought, 1899-1920
---
Citation:
The Battle of Elands River, South Africa, 4 August 1900, Report by Major Tunbridge, 15 September 1900, File Note page 2
Posted by Project Leader at 12:01 AM EADT
Updated: Friday, 6 August 2010 2:49 PM EADT