128 Trooper James Knox
Topic: BW - NSW - NSWCBC
128 Trooper James Knox, NSW Citizens' Bushmen
On Monday, 29 January 1900, James Knox turned up with his saddle to Randwick Race Track in Sydney and enrolled with the NSW Citizens' Bushmen. After a couple days rigorous testing which involved a medical, a shooting test and a riding test.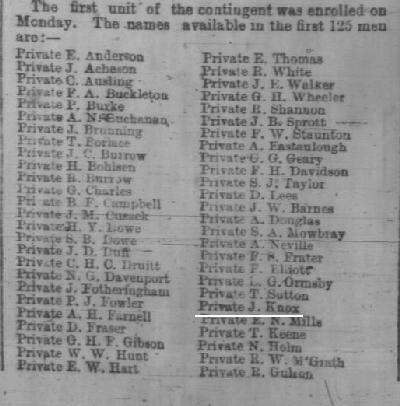 Sydney Mail, 3 February 1900, p. 256.

Knox was amongst the first 125 men to be attested in the NSW Citizen's Bushmen Contingent.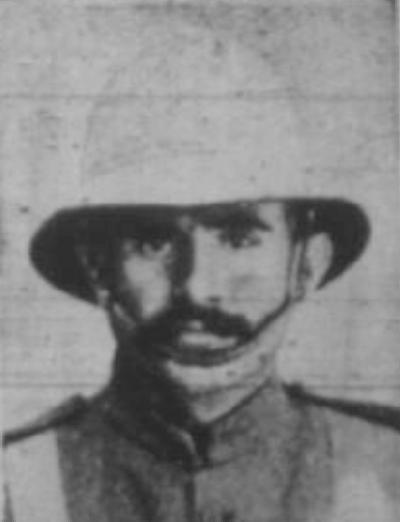 128 Trooper James Knox

James Knox was born 1872 at Chuton, Victoria. A labourer by trade, Brunning enlisted in the NSW Citizens' Bushmen becoming 128 Trooper James Knox and allotted to "A" Squadron. Knox is not recorded in Murray but he appears in the list constructed in the Sydney Mail edition of 17 February 1900, p. 376 and also in the book by James Green, The Story of the Australian Bushmen, p. xii.. At the end of the month, on 28 February 1900, the men of the contingent boarded the SS Atlantian from Cowper Wharf where they remained for the next 24 hours. The next day, following Admiralty rules, on 1 March 1900, the ship departed Sydney Heads for South Africa. Knox appears to have been discharged in South Africa to allow him to join Kitcheners Horse. He died on 24 June 1901, although the circumstances are unknown.
---
Citation:
128 Trooper James Knox
Posted by Project Leader at 12:01 AM EAST
Updated: Monday, 10 May 2010 10:42 PM EADT