Report by Major Tunbridge about Elands River, 15 September 1900, page 2
Topic: BatzB - Elands
The Battle of Elands River, 4 August 1900
Report by Major Tunbridge, 15 September 1900, Page 2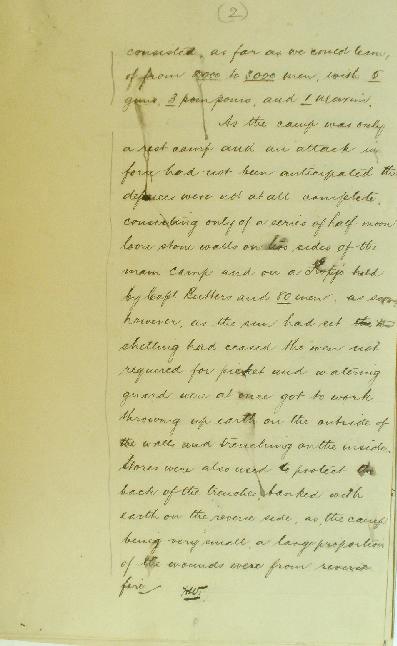 Report by Major Tunbridge about Elands River, 15 September 1900, page 2.
On 15 September 1900, Major Tunbridge wrote a report of the action at Elands River for the NSW General Staff of which page 2 is transcribed below. Note, the previous page 2 was not so marked but it was the second page of the report but accidentally unmarked. This page is marked.
(2)

… consisted, as far as we could learn, of from 2,000 to 3,000 men, with 5 guns, 3 pom poms and 1 Maxim.

As the camp was only a rest camp and an attack in force had not been anticipated the defences were not at all complete, consisting only of a series of half moon loose stone walls on two sides of the main camp and on a Kopje held by Captain Butters and 80 men. As soon, however, as the sun had set and shelling had ceased the men not required for picket and watering guard were at once got to work throwing up earth on the outside of the walls and trenching on the inside. Stores were also used to protect the back of the trenches, banked with earth on the reverse side, as the camp being very small, a large proportion of the wounds were from reverse fire.
Previous: Report page 2
Next: Report page 3
Further Reading:
Battles where Australians fought, 1899-1920
---
Citation:
Report by Major Tunbridge about Elands River, 15 September 1900, page 2
Posted by Project Leader at 12:01 AM EADT
Updated: Sunday, 26 July 2009 10:23 PM EADT