Report by Major Tunbridge about Elands River, 15 September 1900, page 3
Topic: BatzB - Elands
The Battle of Elands River, 4 August 1900
Report by Major Tunbridge, 15 September 1900, Page 3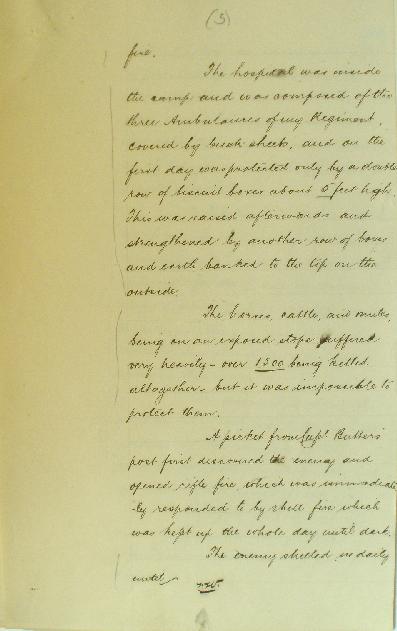 Report by Major Tunbridge about Elands River, 15 September 1900, page 3.
On 15 September 1900, Major Tunbridge wrote a report of the action at Elands River for the NSW General Staff of which page 3 is transcribed below.
(3)

... fire.

The hospital was inside the camp and was composed of the three Ambulances of my Regiment covered by buck sheets, and on the first day was protected only by a double row of biscuit boxes about 5 feet high. This was raised afterwards and strengthened by another row of boxes and earth banked to the top on the outside.

The horses, cattle, and mules, being on an exposed slope suffered very heavily - over 1500 being killed altogether - but it was impossible to protect them.

A picket from Captain Butter's post first discovered the enemy and opened rifle fire, which was immediately responded to by shell fire which was kept up the whole day until dark. The enemy shelled us daily until ...

Previous: Report page 2
Next: Report page 4
Further Reading:
Battles where Australians fought, 1899-1920
---
Citation:
Report by Major Tunbridge about Elands River, 15 September 1900, page 3
Posted by Project Leader at 12:01 AM EADT
Updated: Sunday, 26 July 2009 10:24 PM EADT