327 Trooper John Waddell
Topic: BW - NSW - NSWCBC
327 Trooper John Waddell, NSW Citizens' Bushmen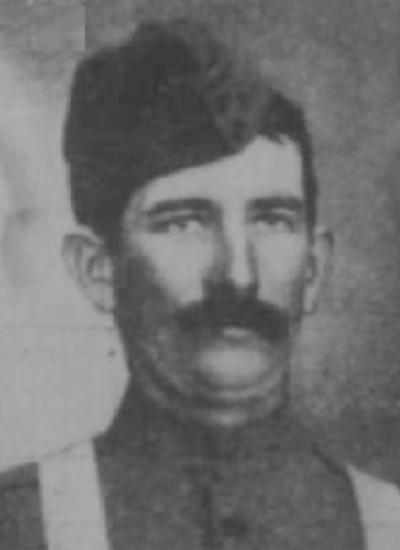 327 Trooper John Waddell
John Waddell was born in 1872 at Shoalhaven, NSW. A horsebreaker by trade, Waddell enlisted in the NSW Citizens' Bushmen becoming and 327 Trooper John Waddell and allotted to "C" Squadron. Waddell is recorded in Murray, p. 82.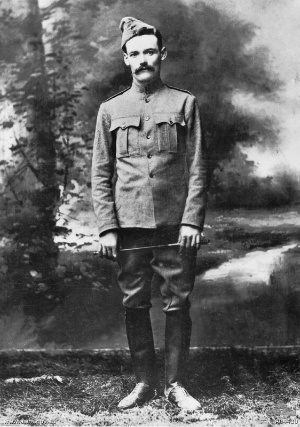 Studio portrait of 327 Trooper John Waddell
At the end of the month, on 28 February 1900, the men of the contingent boarded the SS Atlantian from Cowper Wharf where they remained for the next 24 hours. The next day, following Admiralty rules, on 1 March 1900, the ship departed Sydney Heads for South Africa. Waddell was killed in action by Boer Pom Poms at Elands River on 4 August 1900. He was Mentioned in Despatches on 17 June 1902.
Initially Trooper John Waddell was buried in a communal grave along with Staff Sergeant James Mitchell, Trooper James Daniel Duff, and Trooper James Edward Walker. After 1966 Waddell was reburied in a single grave with his own metal head piece.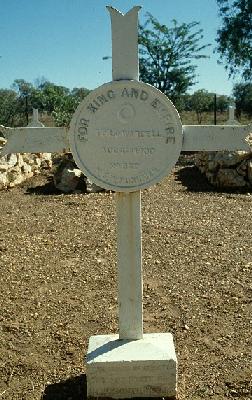 Final grave for 327 Trooper John Waddell
Elands River
For more information about the battle at Elands River, the War Diary of the NSW Imperial Bushmen details this action. A report on the action was filed by Major Tunbridge on 18 August 1900. This can be found at:
Report by Major Tunbridge about Elands River, 18 August 1900, page 1
Report by Major Tunbridge about Elands River, 18 August 1900, page 2
Report by Major Tunbridge about Elands River, 18 August 1900, page 3
Report by Major Tunbridge about Elands River, 18 August 1900, page 4
Report by Major Tunbridge about Elands River, 18 August 1900, page 5
Report by Major Tunbridge about Elands River, 18 August 1900, page 6
---
Citation: 327 Trooper John Waddell
Posted by Project Leader at 12:01 AM EAST
Updated: Monday, 10 May 2010 10:36 PM EADT