19th (Yarrowee) Australian Light Horse, 1914
Topic: Militia - LHV - 9/19
19th ALH
19th (Yarrowee) Australian Light Horse Regiment
1914
Victorian Mounted Rifles [1885 - 1903]
9th (Victorian Mounted Rifles) Australian Light Horse [1903 - 1912]
19th (Yarrowee) Australian Light Horse [1912 - 1932]
17th/19th (Yarrowee) Australian Light Horse [1932 - 1933]
19th Light Horse Armoured Car Regiment [1933 - 1934]
1st (The Wimmera) Armoured Car Regiment [1934 - 1938]
101st (The Wimmera) Motor Regiment [1938 - 1944]
8th/13th (Victorian Mounted Rifles) Armoured Regiment [1948 - 1960]
8th/13th Victorian Mounted Rifles [1960 - ]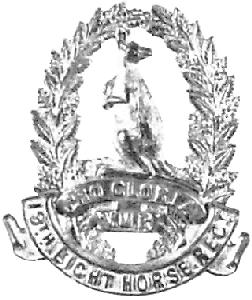 Pro Gloria - For Glory
Allied with: King Edward's Horse (The King's Overseas Dominions Regiment).
District
North-Western Victoria

Brigade
7th Light Horse Brigade

Headquarters
Ballarat
Honorary Colonel
The Right Honorable WH Earl of Dudley, PC, GCMG, GCVO.
Commanding Officer
Lieutenant Colonel RH Clarke, 9 May 1913, Tenure of command from 9 May 1913 to 8 May 1918.

Adjutant
Lieutenant AH Possingham, Army Instructional Staff, 1 July 1913.

Quartermaster
Honorary Lieutenant H Cherry.

Medical Officer
Captain DD Cade
Veterinary Officer
Vacant.
Area Officers

Second Lieutenant SF Pollard.
Machine Gun Section
Ballarat

Second Lieutenant JL Christie
"A" Squadron, Ballarat - Clunes - Creswick - Learmonth
Captain CA Courtney

Lieutenant D Baird

Second Lieutenant KG Whiteside

Second Lieutenant RO Baird

Second Lieutenant RE Sara, 1 November 1913

"B" Squadron, Ararat - Willaura - Maryborough - Talbot - Kingston
Lieutenant J Parkin

Second Lieutenant TF Lewis

Second Lieutenant R Meagher

Second Lieutenant FN Snow, 2 December 1912

Second Lieutenant WJ Redman, 15 December 1913

"C" Squadron, Murtoa - Rupanyup - Minyip - Horsham
Captain TJ Daly, 9 September 1912

Second Lieutenant HW Byrne, 2 December 1912

Second Lieutenant EM Middleton, 2 December 1912

Second Lieutenant JF Hastie, 23 December 1912

Second Lieutenant J Lawson, 23 December 1912

Second Lieutenant W Robinson, 1 November 1913
Previous: 19th (Yarrowee) Australian Light Horse Regiment, 1913
Next: 19th (Yarrowee) Australian Light Horse Regiment, 1915
Further Reading:
9th/19th Australian Light Horse
Victoria Militia - Light Horse
Australian Militia Light Horse
Australian Light Horse Regimental Militia Field Force
---
Citation:
19th (Yarrowee) Australian Light Horse, 1914
Posted by Project Leader at 12:01 AM EADT
Updated: Sunday, 11 July 2010 9:17 AM EADT