7th (Victorian Mounted Rifles) Australian Light Horse, December 1903
Topic: Militia - LHV - 7/15/20
7th ALH
7th (Victorian Mounted Rifles) Australian Light Horse
December 1903

Victorian Mounted Rifles [1885 - 1903]
7th (Victorian Mounted Rifles) Australian Light Horse [1903 - 1912]
15th (Victorian Mounted Rifles) Australian Light Horse [1912 - 1918]
20th (Victorian Mounted Rifles) Australian Light Horse [1919 - 1941]
20th Australian (Victorian Mounted Rifles) Motor Regiment [1942 - 1943]
20th Australian Pioneer Battalion [1943 - 1945]
8th/13th (Victorian Mounted Rifles) Armoured Regiment [1948 - 1960]
8th/13th Victorian Mounted Rifles [1960 - ]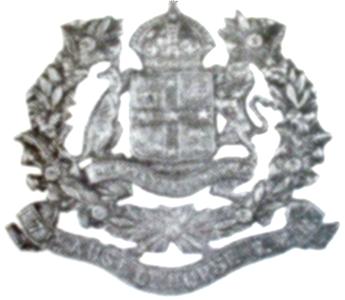 Pro Rege et Patria - For King and Country
1903 Reorganisation, Victoria
The Broadford, Avenel, Yea, Cathkin, Mansfield, Murchison, Rushworth, and Shepparton Detachments of Victorian Mounted Rifles to be formed into the 7th Australian Light Horse Regiment (Victorian Mounted Rifles).
District
Goulburn River and (or Central) Victoria

Brigade
3rd Northern Victoria Brigade

Headquarters
Yea
Honorary Colonel
The Right Honorable Baron Hallam Tennyson, GCMG.

Commanding Officer
Lieutenant Colonel D McLeish, CMG.

Adjutant
Lieutenant OR Scale.

Quartermaster
Vacant.

Medical Officer
Captain JC Morton.

Veterinary Officer
Vacant.

1st Seymour - Broadford - Avenel Squadron
Lieutenant RN Corney



2nd Yea - Mansfield Squadron
Lieutenant FG Purcell

Lieutenant AW Crockett

Lieutenant AN Aitken

3rd Murchison - Rushworth Squadron
Lieutenant HJE Brisbane

Lieutenant EAE Gregory



4th Shepparton Squadron
Captain GF Thorn

Lieutenant J Nugent

Previous: 7th/15th/20th Australian Light Horse
Next: 7th (Victorian Mounted Rifles) Australian Light Horse, 1904
Further Reading:
7th/15th/20th Australian Light Horse
Victoria Militia - Light Horse
Australian Militia Light Horse
---
Citation:
7th (Victorian Mounted Rifles) Australian Light Horse, December 1903
Posted by Project Leader at 12:01 AM EADT
Updated: Sunday, 27 June 2010 2:09 PM EADT