9th (Victorian Mounted Rifles) Australian Light Horse, December 1903
Topic: Militia - LHV - 9/19
9th ALH
9th (Victorian Mounted Rifles) Australian Light Horse
December 1903
Victorian Mounted Rifles [1885 - 1903]
9th (Victorian Mounted Rifles) Australian Light Horse [1903 - 1912]
19th (Yarrowee) Australian Light Horse [1912 - 1932]
17th/19th (Yarrowee) Australian Light Horse [1932 - 1933]
19th Light Horse Armoured Car Regiment [1933 - 1934]
1st (The Wimmera) Armoured Car Regiment [1934 - 1938]
101st (The Wimmera) Motor Regiment [1938 - 1944]
8th/13th (Victorian Mounted Rifles) Armoured Regiment [1948 - 1960]
8th/13th Victorian Mounted Rifles [1960 - ]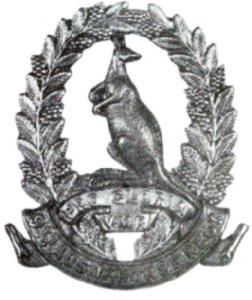 Pro Gloria - For Glory
1903 Reorganisation, Victoria
The Rochester, Echuca, Kerang, and Macorna Detachments of Victorian Rangers, together with the Ballarat, Bacchus Marsh, Clunes, Talbot, Maryborough, Elmore, Wharparilla, Kerang, Durham Ox, and Pyramid Hill Detachments of Victorian Mounted Rifles, to be formed into the 9th Australian Light Horse Regiment (Victorian Mounted Rifles).
District
North Western Victoria
Brigade
3rd Brigade
Headquarters
Ballarat
Honorary Colonel
Vacant.
Commanding Officer
Major TWC Riddell.
Adjutant
Lieutenant JA Brazenor
Quartermaster
Vacant.
Medical Officer
Captain CC Salmon.
Veterinary Officer
Vacant.
1st Ballarat - Bacchus Marsh Squadron
Captain T Anderson
Lieutenant FB Royan

Lieutenant GAD Hoad

2nd Clunes - Talbot Squadron
Lieutenant PW Salmon
Lieutenant JA Troup

3rd Elmore - Echuca Squadron
Lieutenant D McLennan
Lieutenant L Long
Lieutenant TW Howells

4th Kerang - Pyramid Hill Squadron
Captain E Tivey, DSO, (Major VMF)

Previous: 9th/19th Australian Light Horse
Next: 9th (Victorian Mounted Rifles) Australian Light Horse, 1904
Further Reading:
9th/19th Australian Light Horse
Victoria Militia - Light Horse
Australian Militia Light Horse
Australian Light Horse Regimental Militia Field Force
---
Citation:
9th (Victorian Mounted Rifles) Australian Light Horse, December 1903
Posted by Project Leader at 12:01 AM EADT
Updated: Sunday, 27 June 2010 11:33 AM EADT