9th LHR AIF War Diary, 30 October
Topic: AIF - 3B - 9 LHR
9th LHR, AIF
9th Light Horse Regiment
War Diary, 30 October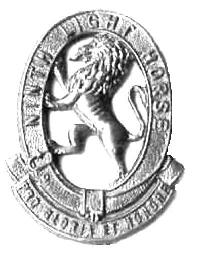 Pro Gloria et Honore - For Glory and Honour
Regimental March - Marching Through Georgia
The following entries are extracted and transcribed from the 9th Light Horse Regiment War Diary, the originals of which are held by the Australian War Memorial. There are 366 entries on this site. Each day has entries as they occurred from 1914 to 1919. In addition to the 9th Light Horse Regiment War Diary, when appropriate, entries from the 3rd Light Horse Brigade War Diary and other regiments with the Brigade will also appear. Entries from the unit history, Darley, TH,
With the Ninth Light Horse in the Great Wa
r, Adelaide, Hassell Press, 1924 will also appear from time to time. The aim is to give the broadest context to the story and allow the reader to follow the day to day activities of the regiment. If a relative happened to have served in the regiment during the Great War, then this provides a general framework in which the individual story may be told.
The Diary
1914
Friday, October 30, 1914

9th Light Horse Regiment Location - Morphettville Race Course Camp and Broadmeadows Camp, Victoria.

9th Light Horse Regiment War Diary - Formation of Regiment occurring at Morphettville Race Course Camp, Adelaide, while "C" Squadron is formed at Broadmeadows Camp, Victoria.

See: Broadmeadows 1909
1915
Saturday, October 30, 1915

9th Light Horse Regiment Location - Rhododendron Spur

9th Light Horse Regiment War Diary - No entry
1916
Monday, October 30, 1916

9th Light Horse Regiment Location - Bir Etmaler

9th Light Horse Regiment War Diary - Distribution of details to Squadrons. Dismounted parade occurred of all the Brigade Units for inspection by Royston, Brigadier General JR, General Officer in Command, 3rd Light Horse Brigade. Kit inspection occurred to check shortages and unwearable kit.
1917
Tuesday, October 30, 1917

9th Light Horse Regiment Location - Khalasa.

9th Light Horse Regiment War Diary - Operation order issued for attack on Beersheba. At 1730 the Regiment marched with Brigade from Khalasa in following order - Commanding Officer & Staff, A, B, C Squadrons. The trek splendidly organised. March discipline good and spirits of the men excellent. At 2000 arrived at Asluj where the transport horses were watered. After an hour's halt started off on second stage of trek to Iswaiwin.

3rd Light Horse Brigade War Diary -

8th Light Horse Regiment and one sub - section, Machine Gun Squadron, were detailed to march to Asluj, reporting to General Staff, Anzac Mourned Division, by 0500 in 30th October. They moved from Khalasa at 0130 on 30th.

Between 0900 and 1000 a hostile aeroplane flew over Khalasa and was engaged by our own aircraft. Enemy aeroplane was driven down. Thus, information of the movement of our mounted troops was not received by the enemy, and the attack on Beersheba from the east on the following morning was a great surprise to him.

At 1700 the Brigade, less 8th Light Horse Regiment, and one sub - section 3rd Machine Gun Squadron was formed up, in column of route, and joined in rear of Divisional Headquarters as the Australian Mounted Division moved forward. 10th Light Horse Regiment under Todd, Lieutenant Colonel TJ, DSO, with one sub - section Machine Gun Squadron formed the, advanced guard to the Divisional column.

A echelon transport travelled in rear of its own Brigade group. B1 and B2 echelon remained at Khalasa until daylight, 31st October 1917, and then travelled forward under orders of A.A. & Q.M.G. Division.

Asluj was reached at 2200, but owing to small water supply the column was delayed near two hours. Draught animals only were watered, the supply would not allow of more. There had been several large wells at Asluj furnishing a good supply of water. These wells were some 70 feet deep. The wells, had, however, lately been blown in by the Turks. The 2nd Light Horse Brigade had during the preceding week been engaged in day and night shifts clearing them out. The original flow, however, was not forthcoming and the supply was not up to expectations or requirements.
At 2400 the Brigade moved Asluj for the point of Divisional concentration Iswaiwin - a march of 31 miles. Heavy rains had fallen over the area two days previously and guns and transport met with difficulties when crossing the Wadi Imshaish. On the other hand the stifling dust trouble was not experienced. The absence gave great relief to the troops and animals, and allowed them to graze at the point of concentration ready for action in a fitter condition, than had any dust been experienced.

The march from Asluj to Iswaiwin was in many places over stony country. The track was only in fair order due to the traffic of the Anzac Mounted Division ahead.

Notwithstanding that the march had been continuous, except for twohours at Asluj, since 1700 on the previous afternoon, when daylight broke, men were now showing signs of fatigue, although many of the riding horses were evidently in want of water.
1918
Wednesday, October 30, 1918

9th Light Horse Regiment Location - Nebk

9th Light Horse Regiment War Diary - 0500 Reveilled and at 0700 left Kuteife arriving there 1645 and bivouacked. Orders received that last two stages of march Nebk - Masie, Masie - Homs would now be completed in one stage with a five hours halt at Masie.
1919
Friday, October 30, 1918

9th Light Horse Regiment Location - Adelaide

9th Light Horse Regiment War Diary - Regiment disbanded.
Previous: 9th LHR AIF War Diary, 29 October
Next: 9th LHR AIF War Diary, 31 October
Sources:
See: 9th Australian Light Horse Regiment, Contents
Australian Light Horse Studies Centre, AIF War Diaries of the Great War, Site Transcription Policy

Further Reading:
9th Australian Light Horse Regiment, Roll of Honour
Battles where Australians fought, 1899-1920
---
Citation:
9th LHR AIF War Diary, 30 October
Posted by Project Leader at 9:18 AM EADT
Updated: Thursday, 16 September 2010 10:43 PM EADT