Diaries of AIF Servicemen, Bert Schramm, 11 November 1918
Topic: Diary - Schramm
Diaries of AIF Servicemen
Bert Schramm
11 November 1918

Bert Schramm
2823 Private Herbert Leslie SCHRAMM, a 22 year old Farmer from Whites River, South Australia. He enlisted on 17 February 1916; and at the conclusion of the war Returned to Australia, 10 July 1919.
During part of the course of his military service with the AIF, Bert Schramm kept a diary of his life. Bert was not a man of letters so this diary was produced with great effort on his behalf. Bert made a promise to his sweetheart, Lucy Solley, that he would do so after he received the blank pocket notebook wherein these entries are found. As a Brigade Scout since September 1918, he took a lead part in the September Offensive by the Allied forces in Palestine. Bert's diary entries are placed alongside those of the 9th Light Horse Regiment to which he belonged and to the 3rd Light Horse Brigade to which the 9th LHR was attached. On this basis we can follow Bert in the context of his formation.
The Diaries
The complete diary is now available on the Australian Light Horse Studies Centre Site at:
Finding more about a service person. See: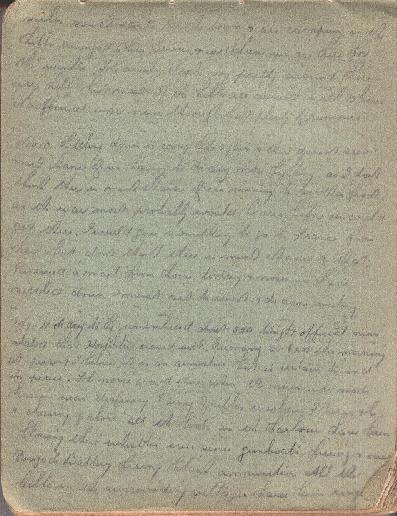 Bert Schramm's Handwritten Diary, 10 - 11 November 1918
[Click on page for a larger print version.]
Bert Schramm
Monday, November 11, 1918

Bert Schramm's Location - Mejdelaya, Tripoli

Bert Schramm's Diary - A day to be remembered. About 5.30 tonight official news stated that hostilities ceased with Germany at 6 am this morning *. I believe it is an armistice but is certain to end in peace. The noise around here when the news was made known was deafening, firing of rifles, revolvers, flares etc and cheering galore. All the boats in the harbour have been blowing their whistles ever some gunboats firing and our brigade battery firing blank ammunition. All the bells in the surrounding villages have been ringing one would imagine he was in Adelaide and I guess there are some joyful bash there tonight. I intend writing some letters tonight that when the news came through I was too excited to do anything. It has been very wet and cold today and snow has fallen in the hills above us and the hills look nice in their white covering.
9th Light Horse Regiment War Diary
9th Light Horse Regiment Location - Mejdelaya, Tripoli

9th Light Horse Regiment War Diary - Permission received for one officer and ten Other Ranks per Regiment to proceed to Tripoli daily for purchasing. Orders issued to Squadrons for parties to proceed daily.

1800 Information received that Germany had signed the armistice at 0500 today. Armistice to come into force at 1100.

This stupendous news was received within 3rd Light Horse Brigade very calmly. Half an hour's fireworks display from flare pistols, a few field artillery and machine gun firing. The local church bells ringing heralded the great news. The blowing of ship sirens at sea penetrated far inland.

Smith R2826 Trooper LJ, died of illness.
9th LHR AIF War Diary, 11 November
Darley
Darley, TH, With the Ninth Light Horse in the Great War, Adelaide, Hassell Press, 1924.

No Entry

Previous: Bert Schramm's Diary, 10 November 1918
Next: Bert Schramm's Diary, 12 November 1918
Sources Used:
Bert Schramm's Diary


National Archives Service File.

Embarkation Roll, AWM8.

Australian War Memorial Roll of Honour

Nominal Roll, AWM133, Nominal Roll of Australian Imperial Force who left Australia for service abroad, 1914-1918 War.
War Diaries and Letters

All War Diaries and letters cited on this site should be read in conjunction with the Australian Light Horse Studies Centre, War Diaries and Letters, Site Transcription Policy which may be accessed at:
Australian Light Horse Studies Centre, War Diaries and Letters, Site Transcription Policy
Further Reading:
9th Australian Light Horse Regiment, AIF
9th Australian Light Horse Regiment, War Diary, Day by Day Account
Battles where Australians fought, 1899-1920
---
Citation: Diaries of AIF Servicemen, Bert Schramm, 11 November 1918
Posted by Project Leader at 1:01 AM EAST
Updated: Sunday, 12 June 2011 9:39 AM EADT