9th LHR AIF War Diary, 27 February
Topic: AIF - 3B - 9 LHR
9th LHR, AIF
9th Light Horse Regiment

War Diary, 27 February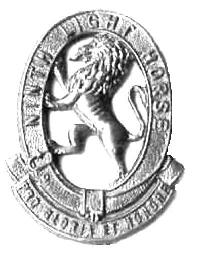 Pro Gloria et Honore - For Glory and Honour
Regimental March - Marching Through Georgia
The following entries are extracted and transcribed from the 9th Light Horse Regiment War Diary, the originals of which are held by the Australian War Memorial. There are 366 entries on this site. Each day has entries as they occurred from 1914 to 1919. In addition to the 9th Light Horse Regiment War Diary, when appropriate, entries from the 3rd Light Horse Brigade War Diary and other regiments with the Brigade will also appear. Entries from the unit history, Darley, TH,
With the Ninth Light Horse in the Great Wa
r, Adelaide, Hassell Press, 1924 will also appear from time to time. The aim is to give the broadest context to the story and allow the reader to follow the day to day activities of the regiment. If a relative happened to have served in the regiment during the Great War, then this provides a general framework in which the individual story may be told.
The Diary
1914
Friday, February 27, 1914

See 4th Military District, South Australia for militia activities.
1915
Saturday, February 27, 1915

9th Light Horse Regiment Location - HMAT A10 "Karroo", at sea.

9th Light Horse Regiment War Diary - No entry.
Carew Reynell Diary - Crossed the line yesterday.

On Thursday lost the gelding from Poop Deck. On same day go up another 8 horses from No. 2 Hold and put on deck on port side. Also got 4 out of Poop onto well deck and weather deck.

Good breezes last few days and holds keeping nice and fresh since Wednesday.

The mare 16318 developed pleurisy yesterday and the veterinary stores supplied by the government are so ridiculously inadequate that we shall lose her for certain unless:

1. we buy the necessary stores at Colombo which may save her; or

2. put her ashore at Colombo for an operation which will probably save her.

The absurd idea of economy pursued by the government on these transports is terribly expensive. Ninety per cent of the deaths of horses at sea is due to pneumonia and every horse lost is a loss of from 50 to 100 pounds, whether a remount or a trained and conditioned troop horse. There is a serum for pneumonia which is very effective but expensive and the government will not spend the necessary five or ten pounds per ship to provide this serum. Last voyage this ship lost 19 horses, mainly pneumonia, if not all, and the loss over the entire convoy was 2.9 per cent, or practically 3 per cent, which was looked on as a wonderful record. The expense of a further 200 or 300 pounds per ship for the sake of improving, even slightly, the chances of the horses should not be hesitated over for a minute. The two electric fans in this ship are a great assistance and be more frequently employed.

A plentiful supply of gypsum and red gum sawdust should be a great assistance in keeping the holds sweet and controlling the smell of urine, which with the ammonia from the droppings, is the cause of all our trouble. Neither of these are supplied at present, but lime and an ammonia neutralising disinfectant are supplied. These are both invaluable but the lime is not supplied in sufficient quantities.

By thorough cleaning first thing in the morning and just before tea as well as when horses are out of stalls, exercising during the day, we have kept the stables entirely free of flies and almost free of smell.

The medical stores supplied on the ship are on the same parsimonious scale as the veterinary stores - it's incredibly stupid.

The officers are making really excellent progress in Tactics and Semaphore signalling and in their duties generally. Interest, serious application and even enthusiasm has replaced fed up lethargy of two months ago.

I wonder how A Squadron, with Major Cook, on the Armidale is getting on. They were the best lot to detach and go on their own after all. I told Major Cook that we would judge of his capacity a great deal by the standard of discipline that his squadron attains during the voyage and that he must set his lip and do the necessary. Cook is a conscientious, well intentioned fellow with a good deal of common sense and energy but lacks the power of controlling others. He has strength of will and is certainly improving a very great deal - or at any rate was - and will make a good officer, I think. his age - 44 - and his civil occupation [butchering] have been heavily against him but he's a trier and has some go.

We have a marching order parade and a night alarm about once a week, as well and boat and fire drill.

The syllabus of instruction consists of a separate squad each day for each of the following - all working simultaneously:

For one half of Regiment:

Recruit training, elementary
Rifle exercises
Bayonet training
Musketry instruction
Miniature rifle shooting
Machine gunnery
Semaphore signalling

For the other half of the Regiment:

Exercising and grooming and evening mucking out.

A number of men have been laid up as a result of vaccination, which in the tropics is severe.
1916
Sunday, February 27, 1916

9th Light Horse Regiment Location - Heliopolis, Egypt.

9th Light Horse Regiment War Diary - No entry.
1917
Tuesday, February 27, 1917

9th Light Horse Regiment Location - Hod Masaid, Sinai.

9th Light Horse Regiment War Diary - Scott, Lieutenant Colonel WH, returned from leave and resumed command of the Regiment. The Regiment carried out mounted work - attacking and retiring from a flag enemy.
1918
Wednesday, February 27, 1918

9th Light Horse Regiment Location - Deir el Belah, Palestine.

9th Light Horse Regiment War Diary - C Troop, B Squadron under Mueller, Lieutenant GLH, won competition for Best Drilled and Turned out troop in the Regiment.
1919
Thursday, February 27, 1919

9th Light Horse Regiment Location - Rafa, Egypt.

9th Light Horse Regiment War Diary - Camp routine.
Previous: 9th LHR AIF War Diary, 26 February
Next: 9th LHR AIF War Diary, 28 February
Sources:
See: 9th Australian Light Horse Regiment, Contents
Australian Light Horse Studies Centre, AIF War Diaries of the Great War, Site Transcription Policy

Further Reading:
9th Australian Light Horse Regiment, Roll of Honour
Battles where Australians fought, 1899-1920
---
Citation:
9th LHR AIF War Diary, 27 February
Posted by Project Leader at 12:01 AM EAST
Updated: Saturday, 17 July 2010 3:37 PM EADT