Philip Fargher
Topic: MilitiaRC - Rifle Clubs
Philip Fargher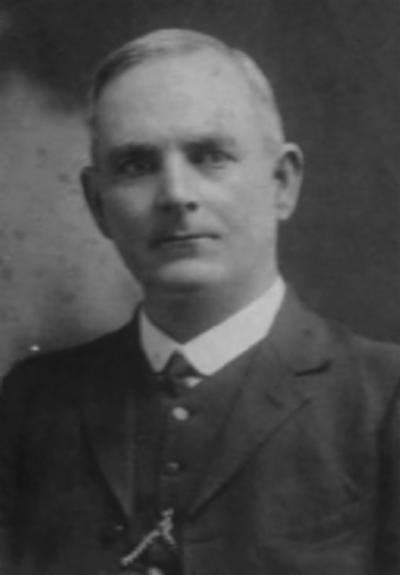 Philip Fargher, 1912.
[From: Victorian Rifle Association Archives.]
Philip Fargher was born on 3 December 1859 at St. Marks on the Isle of Man. He was one of a large family parented by a farmer, Philip Fargher and his wife Catherine (nee Brideson) of Greeba, who eked a living from the land and the sea. After leaving home at 12 to become a cook on a "coaster" trading about the shores of the British Isles, in 1875 Fargher, aged 16, joined the crew of the tall sail "bluenose" [i.e., from Nova Scotia or having Nova Scotians as crew] ship Saxon King of 1,600 tons. She sailed from Liverpool to Bombay and Calcutta. A dispute with the ship's captain in Calcutta led to the crew being fined, then docked a month of pay and given a month in a Calcutta jail. Discharged finally from the Saxon King, Fargher joined the crew of the Liffey, a big iron vessel with double topgallant yards and three skysails, bound for London via St Helena and Ascension Island. He reached London after a voyage of 138 days from Calcutta.

Fargher remained a deepwater sailor for a further 13 years after returning to England, visiting South America and Australia during that time. His voyages included several 'roundings' of Cape Horn. He left the sea in 1885 (a newspaper report later gave the year as 1883), settling in Victoria after completing the first leg of a voyage. His first job was in charge of a mine winding engine on the Bendigo goldfields, at nights studying mechanical engineering at the Bendigo School of Mines. Eventually he qualified as a steam engine driver, working at various mines in that capacity. While in Bendigo, Fargher also volunteered for the Victorian Rifles militia. After recruit probation he passed into "B" Company of its 4th Battalion, headquartered at Castlemaine, on 15 July 1885 (the 4th Battalion was retitled the 4th Victorian Regiment in 1890).

In the Militia, Fargher quickly became known for his rifle-shooting skills – in fact he may have joined because of his ability with the rifle as the militia units were always on the lookout for marksmen to compete in their inter-company and inter-unit rifle matches. Fargher was so good that by late 1886, as a Corporal, he was shooting in the VRA [Victorian Rifle Association] annual matches at Williamstown in Melbourne, where he was recorded as 68th out of 160 prize-winners that year and equal 23rd overall. In late 1887 the now Sergeant Fargher (No. 531 Corporal Fargher was promoted after mid-year, 1887) was again noted as a prize-winner in the VRA annual matches, that year coming 53rd out of 115 prize-takers and 16th overall. On 22 May 1888, Sergeant Fargher transferred to the Reserve, effectively ending his uniformed service. Many years later, in 1910, he would find himself in uniform once again – but never lost his military demeanour in the intervening years.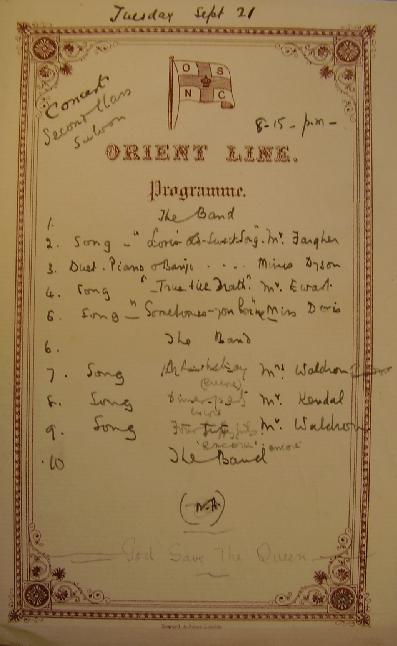 Shipboard Concert Card - Philip Fargher sings "Loris Low Sweet Song", 21 September 1897

[Click on page for larger version.]
In both 1889 and 1890, Fargher appears in the VRA annual report as a prize-taker – however as plain P. Fargher and with no mention of which Rifle Club he represented. He may even have still been at Bendigo at this time. As a reservist he could have still been shooting for the 4th Victorian Regiment, which was an active participant in the VRA team and inter-unit matches among militia and permanent forces (for example, it won the Representative Challenge Cup in 1889). In the 1889 VRA matches, Fargher was 8th out of 160 prize takers and in 1890, 26th out of 150. In the early 1890s, he took a job as an engineer with the MTT (Melbourne Tramways Trust), which built engine houses and cables for Melbourne's growing tram network. The purpose of the engine houses was to winch the underground cables that drew the trams along the streets. Fargher worked in the tramway engine house at the corner of Gertrude and Nicholson Streets in Fitzroy for more than 10 years. He also joined the MRC (Melbourne Rifle Club).
1892 saw Fargher reach personal success at rifle-shooting of the highest order when, shooting for the MRC at the annual VRA matches, he was the Victorian Queen's Prize (with a score of 274 points) and Grand Aggregate Prize winner -essentially the best of all comers from Victoria, NSW, SA and Tasmania across the six nominated matches of the meet. The Queen's Prize, modelled on the British NRA prize of the same name, was an aggregated three stage match. In 1893 he repeated his first prize in the Grand Aggregate, with 424 points, winning a second VRA Gold Medal. He also came second overall in the NRA Medal awarded to the highest aggregate scorer in the Representative Challenge Cup and first and second stages of the Queen's Prize (he was 14th out of the Queen's Thirty - the 30 riflemen to qualify for the third and final round). Adding to his laurels that year, he was a member of the winning Victorian team in the Inter-colonial match against NSW, SA, Tasmania and WA. He top-scored for the team with 157, was the second prize-winner overall, 2nd outright out of 180 prize-takers and took home winnings of £44.
Fargher married in 1894, the year he was the MRC Club Champion and just after his return from representing Victoria again in the Inter-colonial match. His wife was Matilda Maude Blacker, a domestic also living in Fitzroy of Irish mother and English father from Morang, Victoria. They married at St. Marks Church, Fitzroy on 12 December which was also Matilda's 26th birthday. "Tilly" and Philip set up house in Fitzroy where their children Eunice (1895) and Philip (1896) were born. The family moved then to Northcote, north of Melbourne, where Douglas Brookwood Fargher (1899) was born. From Northcote the family moved to North Carlton, an inner northern suburb of Melbourne where John Adrian (1901) was born. With his birth the family moved yet again to Westgarth in Northcote where their last child, Lee William (1910) was born.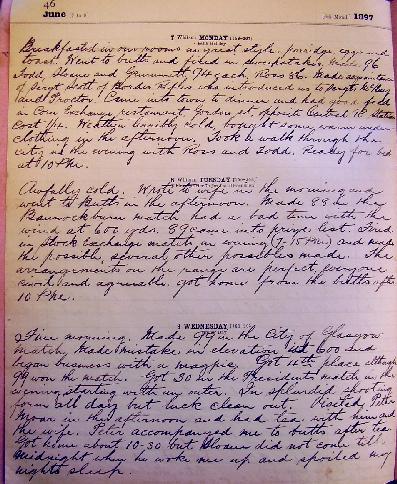 Philip Fargher Diary entries for 7-9 June 1897

[Click on page for larger version.]
Rifle-shooting remained a real passion. In the VRA matches of late 1895 he only won £8 in all but more important, he was elected a member of the VRA Council, beginning a long association with its governing body. In 1897 Fargher came 2nd in the VRA's Queen's Prize match. That year and again in 1898 and 1902 he was chosen as a team member of the highly successful rifle shooting teams representing first Victoria, then Australia at the NRA matches at Bisley. The Victorian team won the Imperial Challenge Cup (known as the Kolapore Cup after its donation by the Rajah of Kolapore as a prize in 1871) in 1897 and were runners-up in 1898. The Australian team won in 1902, when matches resumed after the Boer War. In 1902, following a highly credible 17th (out of nearly 2,000 competitors) in the Queen's Prize match in 1897 and 16th in the Queen's Prize shoot of 1898, Fargher also won a St. George Badge, which placed him among the very best rifle shots of the British Empire. Between Bisley shoots, in 1899 he also won the NSW Grand Championship.

Fargher supplemented his income as a part-time journalist and writer. A series of articles commissioned for the Advance Australia magazine describing the trip to Bisley in 1897 later became the basis for his 1898 book To Bisley and Back with the Kolapore Cup. He also published seminal books on rifle shooting, his most well known being Hints on Rifle Shooting, published by Sands and Mcdougal in Melbourne and wrote a number of short story manuscripts including an account of his years at sea titled Deep Sea Sailor, which were never published. With the Boer War, Fargher joined his fellow champion shot William Sloane in conducting a spirited newspaper correspondence on the issue of which rifle to re-equip the Victorian Forces and then the Contingents to South Africa. Meanwhile he kept up his skills with the rifle, becoming MRC Club Champion again in 1904 and winning a King's Badge in 1901, 1902, 1903 and 1905.

An appointment in mid-1906 to the position of Secretary of the VRA at a salary of £250 a year (at a time when a workman's wage was little more than £100 p.a.), in addition to his rifle shooting prizes, gave him a reasonable income. It was also noted with pride back in the Isle of Man, where the Isle of Man Ramsey Courier and Northern Advertiser of 8 June 1906, quoting the Melbourne Argus, said:

Mr. Fargher, one of the most prominent rifle shots in Victoria, was appointed secretary to the Victorian Rifle Association, out of 182 applicants, at last night's meeting of council …Mr. Fargher was born in the neighbourhood of Douglas and has several relatives resident there. We have pleasure in congratulating our fellow countryman on his success, and will no doubt hear more about him.


The Fisher Labor Government introduced compulsory military training for all young Australian men in 1910 and Fargher was appointed Area Officer for the Northcote District with the rank of Lieutenant. With the appointment, he was required to attend a School of Instruction for a period of six weeks (1 November to 15 December, 1910) at Albury, NSW. This new role also added a £150 p.a. allowance to his VRA Secretary's income. He held both posts until his death. With two posts to serve Fargher worked extremely hard in his usual way and, according to his son John, at home 'drank very hard from a wicker-cased demijohn of whisky'.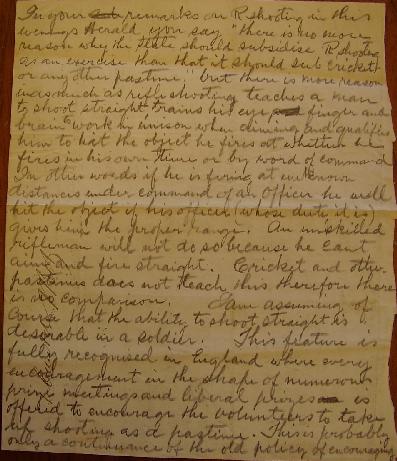 Draft by Philip Fargher for an article on subsidising rifle shooting.

[Click on page for larger version.]
Fargher's sons all saw active service. The eldest, Philip Fargher, who had joined the Victorian Railways' Transportation Branch in 1913 as a junior clerk, enlisted in July 1915 after five years of service in Victoria with the 8th Militia Battalion. He saw active service in France with the 6th Battalion. He was wounded in action in 1916 and promoted to Company Sergeant Major, but then was gassed in June 1918 and died of his wounds soon after. He was buried in France. Another son, Douglas Brookwood Fargher (the name Brookwood after the train station near Bisley) enlisted in 1916 but was not allowed to leave Australia until he had turned 19. He arrived in England in 1918 with reinforcements for the 39th Battalion and was deployed to France just after the death of his brother Philip. He was wounded in action in 1918 but returned to Australia safely in 1919. Douglas Brookwood Fargher served again in WWII including in New Guinea where he was awarded the DSO (Distinguished Service Order) and rose to Colonel. His brother Lee William Fargher saw WWII service in the Middle East and the Pacific with Signals in the 7th, 4th and 3rd AIF Divisions. He was awarded the OBE (Order of the British Empire) and rose to Lieutenant-Colonel. Another son, John Adrian Fargher, a railway engineer, became the SA State Controller of Air-raid Shelters during WWII – and later earned an entry in the Australian Dictionary of Biography for his engineering career and contributions to public life.

It was while Philip Fargher (junior) was at the front in France during WWI that his father died after suffering poor health for several months. Fargher died at Northcote at the young age of 56 on 1 October 1916 with occupations given as 'Secretary and Military Officer'. Before his own death on active service, Fargher's son Philip in his 1916 diary reveals that he only learnt of his father's death on 4th November. Douglas Fargher wrote of his father in 1949:
(He) was a fine man of strong character (who) would never flinch from doing what he considered to be his duty. He was strictly truthful and I was witness of many examples of his physical courage. It was his habit to tell of his adventures (as a young boy and at sea) every Sunday night.


There is no doubt that the worldly and strong-minded Fargher was highly regarded – not just as an expert rifleman but also for his leadership skills. For example, he was one of the very few civilians appointed to Area Officer roles with military rank in 1910. Fargher's obituary in The Age noted that his death: 'removes one of the most prominent and popular exponents of the art of rifle shooting in Australia' while The Argus recorded: 'Always a hard, but fair, fighter in matters pertaining to the welfare of riflemen he was greatly esteemed by all with whom he came in contact.' Fargher was provided a military funeral and buried at Northcote. His wife Matilda ("Tilly") lived on to 1943.


Acknowledgement: Reprinted with permission of the author, Andrew J. Kilsby, from his book, The Bisley Boys - The Colonial Contingents to Queen Victoria's Diamond Jubilee 1897 - The Victorian Rifle Team, (Melbourne 2008). Copies of this book may be obtained directly from Andrew who may be currently contacted at:
kilsbya at optusnet dot com dot au
On this same theme, Andrew is currently researching for a PhD at UNSW@ADFA under the title Australian Defence and The Rifle Club Movement 1850-1926. He would be interested to hear from anyone with information or interest around this topic. Please feel free to contact him.
Further Reading:
William De Passey
---
Citation:
Philip Fargher
Posted by Project Leader at 12:38 PM EAST
Updated: Thursday, 15 January 2009 5:36 PM EAST