Romani, Sinai, 4-5 August 1916, 5th LHR, AIF, Killed in Action Burial Sites
Topic: AIF - 2B - 5 LHR
Battle of Romani
Sinai, 4 - 5 August 1916
5th LHR, AIF, Killed in Action Burial Sites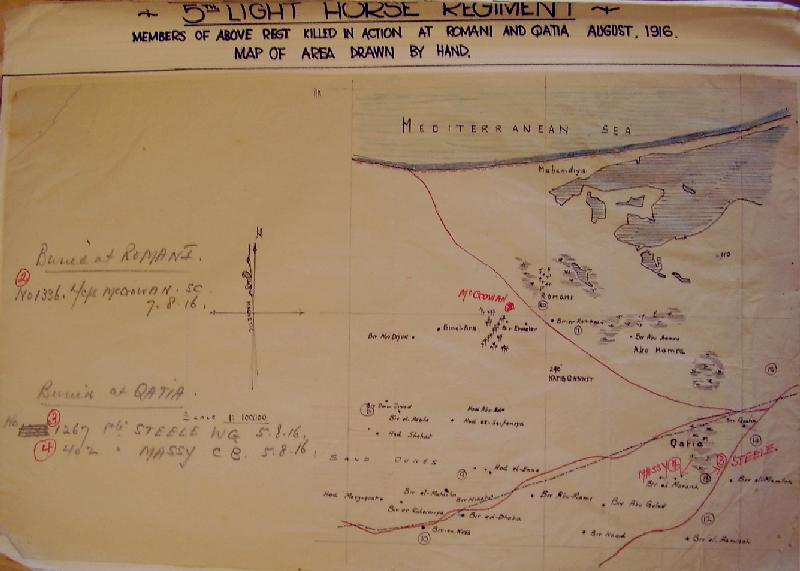 Hand drawn map detailing the burial sites of men from the 5th LHR around the Romani Battlefield.
[Click on map for larger version.]
Killed in Action Burial Sites for 5th Light Horse Regiment men at Romani
By 1 June 1917, the Graves Registration Unit was working hard to locate the members of the Light Horse who had fallen during the Battle of Romani. The aim was to disinter the men and rebury the bodies at Kantara with properly marked graves. The problem encountered by this unit was the fluid nature of the battlefield and the interference of bodies by local Arabs and wild animals. If the grave location given to the unit by the Regiment did not produce the body and a search around the locality failed to give any results, the Regiment was given an opportunity to refine the details originally sent. Some Regiments maintained excellent records while others were quite haphazard in carrying out their duties. Usually a good Padre was the key to good records. The 5th Light Horse Regiment was well served in maintaining grave location information. The above map is that sent to the Graves Registration Unit on 4 October 1917.
Further Reading:
5th Australian Light Horse Regiment, AIF
5th Australian Light Horse Regiment, Roll of Honour
Battle of Romani, Sinai, August 4 to 5, 1916
Bir el Abd, Sinai, 9 August 1916
Battles where Australians fought, 1899-1920
---
Citation:
5th LHR, AIF account about the Battle of Romani, Killed in Action
Posted by Project Leader at 12:01 AM EADT
Updated: Monday, 26 October 2009 6:03 PM EADT