Australia Day, 2009
Topic: Gen - Australia
The Australian Light Horse Studies Centre
wishes all Australians
A joyous celebration of
Australia Day
On this day we are able to reflect upon all the qualities that created and sustain the Australian ethos.
The work of the Australian Light Horse Studies Centre aims to assist in bring to light one aspect of Australian history that assisted in creating the Australian culture.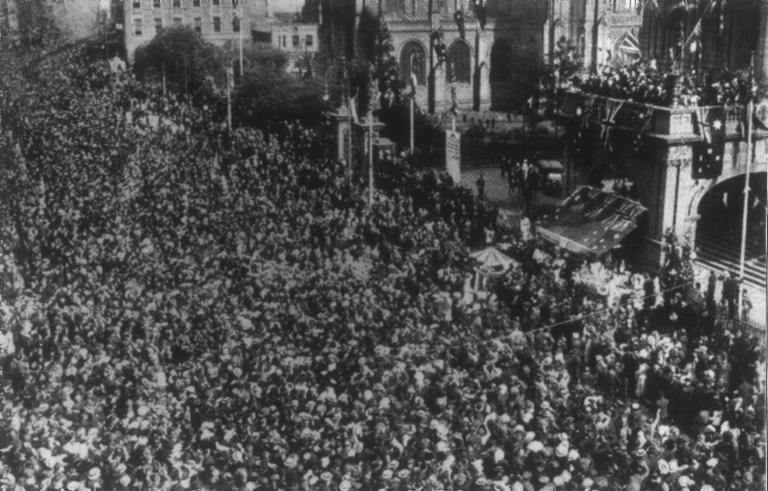 Crowds outside Sydney Town Hall celebrating Australia Day, 30 July 1915

[From: Sydney Mail, 4 August 1915, p. 10.]
After the bringing together of the various states into a Federation on 1 January 1901, the various groups in Australia searched for a meaningful way to celebrate a uniquely Australian experience. The first solution was proposed by the State Governments for the implementation of Empire Day, to commence on 24 May 1905, chosen because it was the late Queen Victoria's birthday. From that date, Australians looked to Empire Day on 24 May as a means of reassurance that federation would retain the links to Britain.
An alternative movement, rooted in the Labor Party and Sydney Irish Catholic Church came to the fore when in 1911, they renamed Empire Day, Australia Day. It was by a lucky coincidence that 24 May was also the feast day of Our Lady Help of Christians, Patroness of Australia.
This split in the nature of 24 May assisted to bring to the fore a single, uniting day on the outbreak of the Great War. It was generally agreed that 30 July 1915 would became Australia Day. This was aimed to celebrate the Australians' pride in their soldiers' achievements at Gallipoli and a way of raising funds for the war charities.
Australia Day, as a national celebration of all states and territories to be held on 26 January, was mooted in 1935. By 1936, all states and territories adopted that date as the single date and so on 26 January 1937, the first unified Australia Day was held in Australia and it has occurred on that date since then.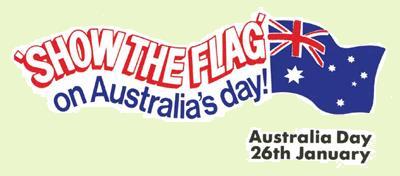 Other sites of interest:
---
Citation: Australia Day, 2009
Posted by Project Leader at 8:45 AM EAST
Updated: Monday, 26 January 2009 9:29 AM EAST