Gebel Medwa, Egypt, December 25, 1915
Topic: BatzSe - Senussi
Gebel Medwa
Egypt, 13 December 1915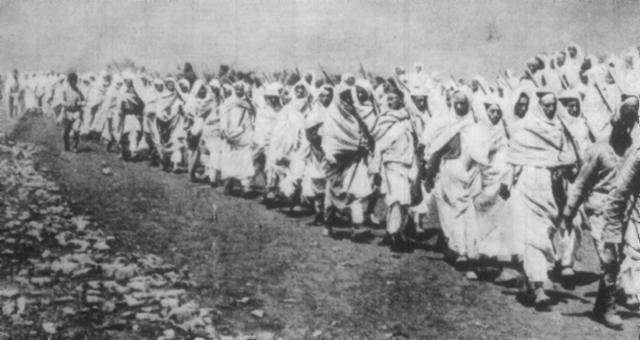 The Senussi on the march at Siwa.
[From: Sydney Mail, 19 November 1915, p. 24.]

Gebel Medwa, an action fought on 2.5 December 1915 in the Libyan Desert oil Egypt's western frontier ten kilometres south-west of Mersa Matruh, between pro-Turkish Arabs of the Senussi sect and a British expeditionary force under Major-General Alexander Wallace. Following an indecisive action fought at Um Rakhum (q.v.), Wallace's force was confined to Mersa Matruh by bad weather. The Senussi, however, were not so deterred, using the opportunity to occupy positions close to the British base and threatening to bypass it entirely and embark on a march across the desert towards the Nile - the contingency which Wallace was expressly charged with preventing.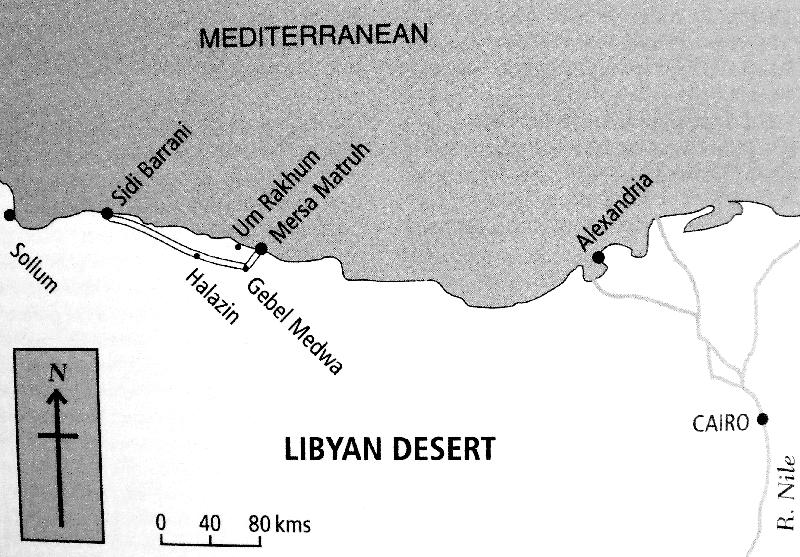 The affair at Gebel Medwa.
Determined to strike first as soon as conditions allowed, Wallace sent a column 2,500 strong up the Khedival Road early on Christmas morning. The first, predominant hill-the Gebel Medwa--was taken by the infantry without resistance soon after dawn. By 7 a.m., however, a large Senussi force was encountered in the Wadi Medwa and a fierce contest ensued in which the newly arrived 1st Battalion of the New Zealand Rifle Brigade played a notable supporting role. Meanwhile, the cavalry assigned to cover the advance--including a composite regiment of Australian light horse squadrons under Major Hon. Dudley Pelham (a British regular) - had embarked on a wide circling movement to the south aimed at turning the enemy's right flank. The leading squadron of this force, led by Major John Bisdee, VC, encountered some Arab cavalry at sunrise and, deploying at the gallop, easily dispersed them before going on to dislodge the occupants of further Senussi positions.

By noon, the centre of the enemy's position had been driven in and the Senussi main force was retreating along the coast. This development was observed by Pelham, who realised that the opportunity now presented to strike a decisive blow. He sought permission to unleash his light horsemen to sever the line of retreat, but-despite repeated pleas - permission to seize the moment was refused by his superiors The chance to add immensely to the Arab losses (estimated at about 300 dead) was therefore passed up, and the outcome of the action was again inconclusive. The British force returned to Mersa Matruh, despite having sustained only thirteen personnel killed and 51 wounded: Australian casualties numbered about seven, including one light horseman killed.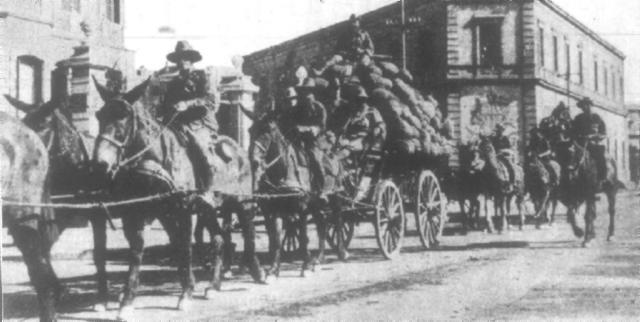 Australian AASC leaving Mersa Matruh.
[From: Sydney Mail, 24 May 1916, p. 9.]
Extracted from the book produced by Chris Coulthard-Clark, Where Australians Fought - The Encyclopaedia of Australia's Battles, Allen and Unwin, Sydney, 1998, pp. 113-115.


Additional References cited by Chris Coulthard-Clark:

C.E.W. Bean, (1929), The Australian Imperial Force in France 1916, Sydney: Angus & Robertson.
Further Reading:
The History of the Composite Australian Light Horse Regiment
Senussi Rebellion and the 9th LHR
Battles where Australians fought, 1899-1920
---
Citation:
Gebel Medwa, Egypt, December 25, 1915
Posted by Project Leader at 11:01 PM EADT
Updated: Sunday, 5 April 2009 2:08 PM EADT