The Battle of Broodseinde, Belgium, 4 October 1917, Outline
Topic: BatzWF - Westn Front
The Battle of Broodseinde
Belgium, 4 October 1917
Outline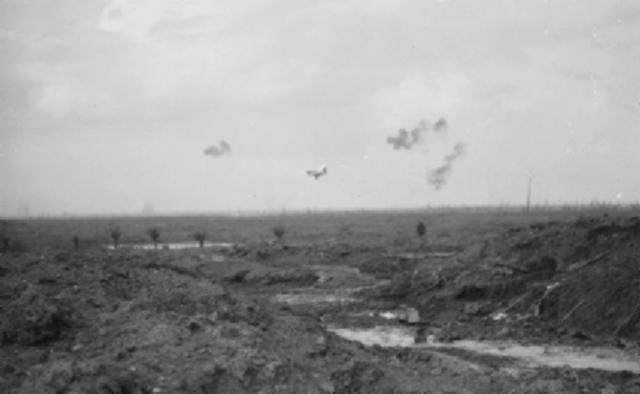 Broodseinde with four German shells exploding near the Australian trenches.
Broodseinde, fought on 4 October 1917, was the next operation launched by the British Second Army as part of the Third Battle of Ypres after Polygon Wood (q.v.). In an operation involving twelve divisions advancing on a front of thirteen kilometres, the centre comprised I and II Anzac Corps fighting side by side for the first time. The former had been sideslipped about three kilometres north, so that its front now lay opposite the village of Broodseinde, and If Anzac was brought into the line on its left. Along slightly more than 4.5 kilometres of front there were now four Anzac divisions in line, in order from left to right (north to south): New Zealand, 3rd, 2nd and 1st Australian. While the New Zealanders faced Abraham Heights, the Australians had as their objective the main ridge which adjoined these at Broodseinde.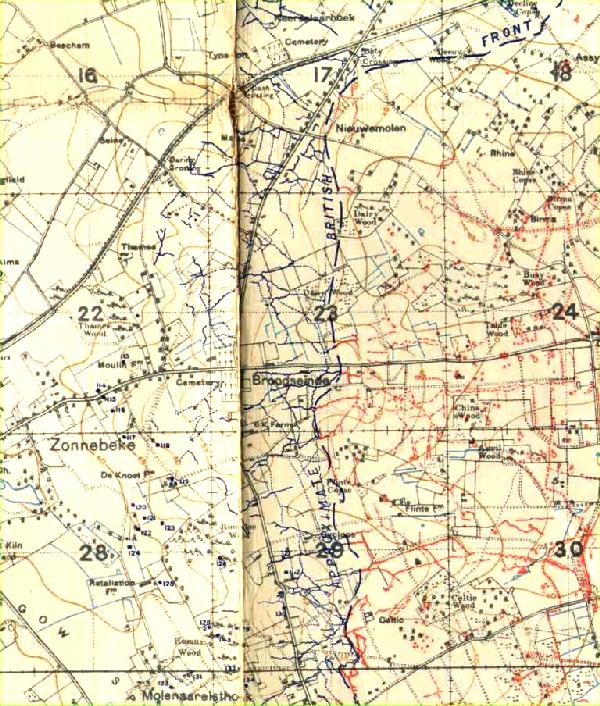 Trench map of the Broodseinde region.
Fearing that the fine weather which had accompanied operations over the preceding fortnight might change, preparations for the attack were hurried forward. On the night before the scheduled start, rain began to fall; it was, however, decided to persist with the planned advance. At dawn on the 4th, 40 minutes before the scheduled start-time at 6 a.m., the 1st and 2nd Divisions were suddenly assailed by a mortar barrage which fell on the shell-holes where they were waiting. Although considerable casualties were suffered in this bombardment, the troops could only wait it out.

Precisely at 6 a.m. the British barrage descended, whereupon the Australians rose to their feet and advanced - only to be met by a line of troops from the German 212th Regiment which also jumped to their feet at that moment 30 metres away. These had been in the process of advancing behind their own barrage in an attempt to recapture some of the ground earlier lost. The Germans hesitated momentarily, evidently disconcerted to find themselves confronted by a bigger attack than their own. The Australians opened fire with their Lewis guns and the enemy promptly broke, pursued by the waves of attackers.

Following the usual stiff fighting around pillboxes, the Australians gained all their objectives on the ridge - though at the cost of 6,500 men: the New Zealanders suffered a further 1,700 casualties. Along the whole line the attack had been successful, thereby giving the British their first glimpse of the Flemish lowlands since May 1915.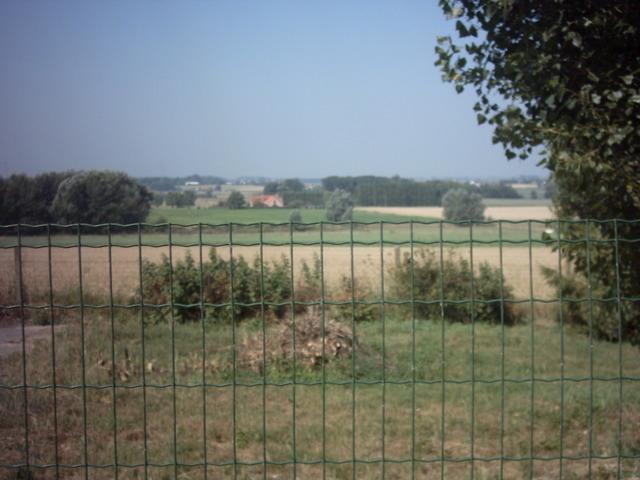 Broodseinde Ridge overlooking Ypres.
Extracted from the book produced by Chris Coulthard-Clark,
Where Australians Fought - The Encyclopaedia of Australia's Battles
, Allen and Unwin, Sydney, 1998, pp. 132-133.


Additional References cited by Chris Coulthard-Clark:

C.E.W. Bean, (1933), The Australian Imperial Force in France 1917, Sydney: Angus & Robertson.
P.A. Pedersen, (1985), Monash as Military Commander, Carlton, Vic.: Melbourne University Press.
Further Reading:
The Battle of Broodseinde, Belgium, 4 October 1917
The Battle of Broodseinde, Belgium, 4 October 1917, Roll of Honour
Battles where Australians fought, 1899-1920
---
Citation:
The Battle of Broodseinde, Belgium, 4 October 1917, Outline
Posted by Project Leader at 12:01 AM EADT
Updated: Tuesday, 5 October 2010 12:29 PM EADT