9th LHR AIF War Diary, 16 March
Topic: AIF - 3B - 9 LHR
9th LHR, AIF
9th Light Horse Regiment

War Diary, 16 March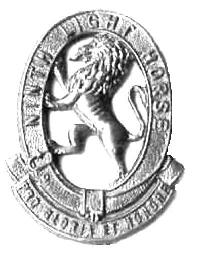 Pro Gloria et Honore - For Glory and Honour
Regimental March - Marching Through Georgia
The following entries are extracted and transcribed from the 9th Light Horse Regiment War Diary, the originals of which are held by the Australian War Memorial. There are 366 entries on this site. Each day has entries as they occurred from 1914 to 1919. In addition to the 9th Light Horse Regiment War Diary, when appropriate, entries from the 3rd Light Horse Brigade War Diary and other regiments with the Brigade will also appear. Entries from the unit history, Darley, TH,
With the Ninth Light Horse in the Great Wa
r, Adelaide, Hassell Press, 1924 will also appear from time to time. The aim is to give the broadest context to the story and allow the reader to follow the day to day activities of the regiment. If a relative happened to have served in the regiment during the Great War, then this provides a general framework in which the individual story may be told.
The Diary
1914
Monday, March 16, 1914

See 4th Military District, South Australia for militia activities.
1915
Tuesday, March 16, 1915

9th Light Horse Regiment Location - Mena Camp, Egypt.

9th Light Horse Regiment War Diary - Three officers from "Anglo Egyptian" joined.

Carew Reynell Diary - We led our horses out 10 miles to Mena Camp sending baggage by trains.

We didn't ride horses for a fortnight and then only put the weight on their backs for 5 minutes the first day and gradually worked up. The heavy sand after the long voyage caused a lot of strains with other units but we had not a single case.

While horses were being gradually exercised and ridden for longer periods we took the opportunity of doing a good deal of our elementary training that needed brushing up.
1916
Thursday, March 16, 1916

9th Light Horse Regiment Location - Serapeum, Egypt.

9th Light Horse Regiment War Diary - No entry.
1917
Friday, March 16, 1917

9th Light Horse Regiment Location - Bir Abu Shannar, Khan Yunis, Palestine.

9th Light Horse Regiment War Diary - The Regiment strength [15 Officers 356 Other Ranks] moved out at 0600to make good the line running from Abasan el Kebir to Khan Yunis as detailed to Brigade operation order.

Regimental marching order was issued. One section Machine Gun Squadron and Field Ambulance detail accompanied the column. At Bir el Eshsha one troop from C Squadron proceeded along the beach to point 50JqA5. The remainder of the column proceeded through Rafa to Khan Yunis. At the fork to road JqC5 A Squadron proceeded to Abasan el Kebir which had made good by 0930. The remainder of the column reached Khan Yunis at 0915 and the village was at once made good no enemy being found but signs made by the natives, it appeared that an enemy patrol had been there that morning.

In reaching the high ground east of the village, one advance section was fired on by a Turkish cavalry patrol of about 20 men who after firing about 30 shots, dispersed and made off in the direction of Gaza and Rafa.

Command posts were established, the Regimental Headquarters being at point 320 east of E in Goz El Taire and patrols were sent out searching the Wadi Ghuzze near Tel Nujeid Sq J2 and Abu Sitta SqJ4. Gaza could be plainly seen and a Turkish outpost was observed on a sand hill about three miles west of Gaza.

At 1500 word was received from Officer in Command that they were meeting at Khan Yunis at 1600 and at 1500 the Regiment commenced to withdraw. The Regiment being one mile west of Khan Yunis and camp was reached at 1930. From Rafa east the going is good - a good steady trot can be maintained.
1918
Saturday, March 16, 1918

9th Light Horse Regiment Location - Deir el Belah, Palestine.

9th Light Horse Regiment War Diary - A squadron composed of troops from A, B, and C Squadrons carried out special training under Charley, Major WT. Bleechmore, Major C, proceeded on Egyptian leave. Divisional hot baths were open to this Regiment.
1919
Sunday, March 16, 1919

9th Light Horse Regiment Location - Moascar, Egypt.

9th Light Horse Regiment War Diary - Voluntary church services. At 2145 information received that civil disturbances had commenced in Ismailia. Inlying piquet turned out mounted and proceeded to Ismailia. Two Officers and 50 Other Ranks, B Squadron standing to, ready to move dismounted at short notice. Disturbance ended at 2250 at which time the mounted piquet returned to camp. Information received that serious disturbances were taking place in Zagazig area. Detachment of 10th Light Horse Regiment forced to fire on a large crowd before they would disperse. Railway lines torn up in many places between Cairo and Moascar.
1500, three Non Commissioned Officers twelve Other Ranks proceeded by Motor Lorry to Quassassin to guard the lock there. One Squadron, 8th Light Horse Regiment ordered to fit out mounted and proceed to Zagazig 17th March 1919. One mounted squadron 9th Light Horse Regiment to proceed following day.
Previous: 9th LHR AIF War Diary, 15 March
Next: 9th LHR AIF War Diary, 17 March
Sources:
See: 9th Australian Light Horse Regiment, Contents
Australian Light Horse Studies Centre, AIF War Diaries of the Great War, Site Transcription Policy

Further Reading:
9th Australian Light Horse Regiment, Roll of Honour
Battles where Australians fought, 1899-1920
---
Citation:
9th LHR AIF War Diary, 16 March
Posted by Project Leader at 12:01 AM EADT
Updated: Saturday, 17 July 2010 9:07 PM EADT