Buffels Hoek, South Africa, August 16 to 17, 1900
Topic: BatzB - Buffels Hoek
Buffels Hoek
South Africa, 16-17 August 1900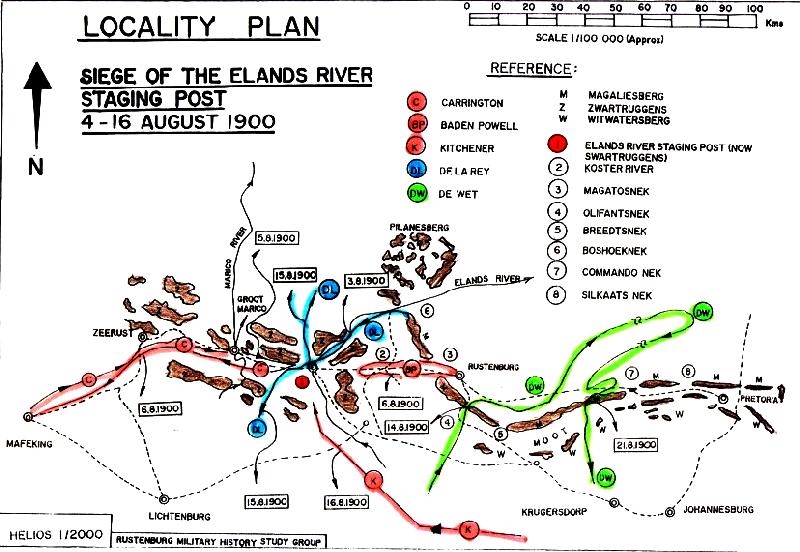 Location map detailing activity around Elands River, August 1900.
[From: Rustenburg Military History Study Group.]
Buffels Hoek, an action fought on 16-17 August 1900 during the Second South African War, near Ottoshoop in the western Transvaal some 40 kilometres north-east of Mafeking. A 1,500-strong British column commanded by Lieut.-General Sir Frederick Carrington (which included over four squadrons of Imperial Bushmen from all six Australian colonies) was ordered to advance from Mafeking to Zeerust, which he had abandoned just a week or so earlier, but was balled by a Boer force under General H.L. Lemmer holding a line of kopjes (hills) about four kilometres long.
On the morning of' the 16th Carrington sent the bulk of his force forward under Brig.-General the Earl of Erroll to attempt to turn the Boer left. Several hills were taken at bayonet-point, but although weakened the Boer resistance held and the British troops were forced to spend the night in the positions they had won. The next morning Lemmer's men counter-attacked but were repulsed by mid-afternoon and withdrew from the field. The action reportedly cost the Boers nearly 70 casualties and Carrington's force lost about 50 killed, wounded and missing. Among the latter were five Australians killed and eleven wounded.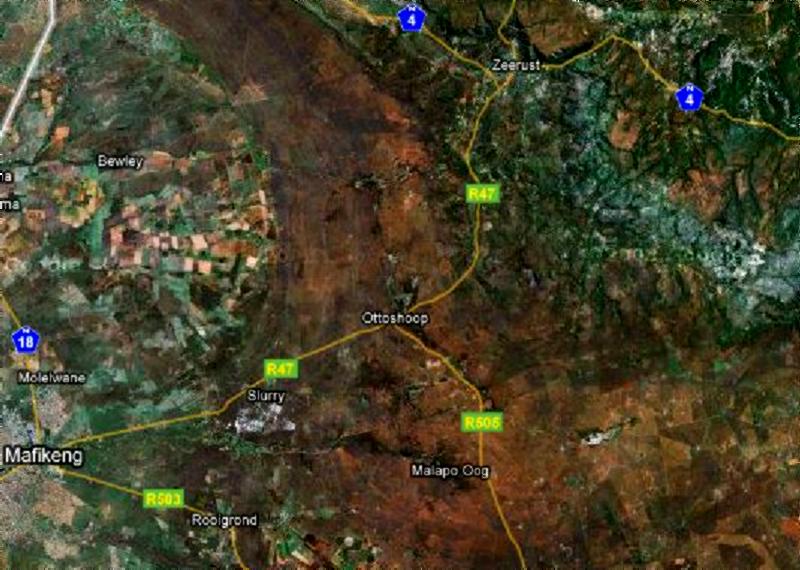 Terrain and localities of the Buffels Hoek battle.

Extracted from the book produced by Chris Coulthard-Clark,
Where Australians Fought - The Encyclopaedia of Australia's Battles
, Allen and Unwin, Sydney, 1998, pp. 85-864.
Additional References cited by Chris Coulthard-Clark:
L.S. Amery, (ed.)
The Times History of the War in South Africa 1899-1902
, Vol. 4 (1906), London: Sampson Low, Marston & Co.
John Bufton (1905) Tasmainians in the Transvaal War, Hobart: S.G. Loone.
R.L. Wallace (1976) The Australians at the Boer War, Canberra: Australian War Memorial & Australian Government Publishing Service.
Further Reading:
Battles where Australians fought, 1899-1920
---
Citation:
Buffels Hoek, South Africa, August 16 to 17, 1900
Posted by Project Leader at 12:01 AM EADT
Updated: Friday, 10 April 2009 12:41 PM EADT