Great War, Military Biographies, Frank Dudley Beaumont, His Story
Topic: GW - Biographies
Great War
Military Biographies
Frank Dudley Beaumont, His Story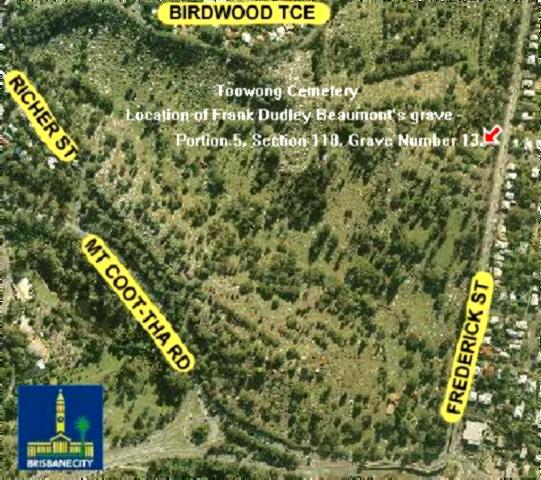 Toowong Cemetery
At the turn of the century, Frank Dudley Beaumont was a rising star in the cavalry. During the Second Anglo Boer War, 1899 - 1902, he served successively with:
The Roberts Colonial Horse; and,
The Cape Coloured Forces as a Lieutenant.
The next record of Beaumont is in the 1913 electoral roll where he was registered in the Federal seat of Oxley.
Beaumont then enlisted in the 9th Infantry Battalion at Enoggera on 17 September 1914 as 1095 Private Frank Dudley Beaumont. He was allotted to "D" Company. Despite being 47, being born in 1867, he stated his age as 44 to fall under the 45 year age ceiling. The place of birth was recorded as Brighton, Sussex. His next of kin was stated to be Mrs Verschoyle, Dunsford, Surrey.
The last record of this life was a burial on 30 September 1914 at Toowong Cemetery on the corner of Frederick Street and Mt Coot-tha Road, Toowong. The location of Beaumont's grave was at Portion 5, Section 118, Grave Number 13.
It is known that he had one sister called May Elizabeth Beaumont who was born in 1869 who appears to be his next of kin, Mrs Verschoyle. He has a brother, Harold Beaumont whose address is unknown and a former girlfriend Dell whom he possibly met in South Africa for she was in Transvaal in 1914.
In relation to known friends, there was John Charles Browne, a journalist and former officer who had known him for some three years. Browne enlisted as 414 Colour Sergeant John Charles Browne who served with the 15th Battalion, C Company. His other friend was Herbert Mark Meadows Maddock, a public servant working for the Commissioner of Public Health in Brisbane. Later Maddock enlisted as a Captain in 9th Battalion, 6th Reinforcement.
Beaumont wrote a succession of letters to different people explaining his circumstances and his intentions.
Letter 1 - to his sister May Elizabeth Beaumont.
Brisbane, 31/7/'l4.


Good-bye, dear old May.

Things have got beyond my control, so there is nothing to do but end it. Good-bye, and God bless you. It is terrible for Dell but things are quite hopeless.

Your heart-broken brother,

Frank.
Letter 2 - to Captain Alexander Clifford Vernon Melbourne, OC, 9th Battalion, D Company.
Brisbane, 22/9/'14.

Dear Melbourne,

Sorry not is have been able to "play the game," but circumstances over which I have no control have been too strong for me, so when you receive this I will be is the land of shade. I wish I could have gone there by an easier route, and have died as a man should: but it was not to be. My apologies to you and your officers, and the best of luck to you all.

Yours truly,

Frank D. Beaumont.
Letter 3 - to his brother, Harold Beaumont.
26/9/'14.

My dear Harold,

The end has come at last. Fate been been too strong for me to fight against, and in sporting parlance I have got to "throw up the sponge"! What I want you to do is this: Supposing that anything really good eventuates from those bonds, please divide the money between Dell and yourself. It might come after my death; it would be just lay luck. Thank God she is at present in the Transvaal staying with her brother; so the shock, I hope and pray, may not be so great. I only hope Uncle Somerset will pay my debts, for I would like to leave my name clear. Good-bye and good luck to you, love to dear old May and the girls.

Your unfortunate brother,

Frank D Beaumont.

P.S. I enlisted in the Expeditionary Force for the war a week ago, and if I had some money to pay certain obligations I would been gladly gone intend of taking this step. - Frank.

Letter 4 - to his friend Tom.
Brisbane, Sept. 27th, 1914.

My dear Tom,

I am so seriously involved (and this last silly escapade has put a finish to it) that I am going to end my useless life. Many thanks to you all for your kindness to me. Should, at any time in the next few months, you have any spare cash, there is a gold chain and sovereign case pawned for 35/- with M. Harris, Edward Street, which I would like you to send to my girl. Maddock would give you her address, and I know Harris would let you have them on showing this. There is also a silver wristlet watch pawned for 5/- (it cost £2/10/- seven months ago), and a silver cigarette case pawned for 30/-, which if you care to take out, I would like you to keep. My love to Harry. Good-bye old chap, and good luck.

Yours sincerely,

Frank D Beaumont.
Letter 5 - to the Secretary of the United Services Institute of Queensland.
Brisbane, Sept. 27th, 1914.

The Hon. Secretary, U.S.I. of Q.

Dear Sir,

I wish to apologise to you and the committee for the non-payment of my wine account. My affairs are so frightfully involved that I am about to terminate my worthless life. Good-bye, and good luck to you and the members.

Yours truly.

Frank D. Beaumont.
The letters map out a steady decline in the mental health of Beaumont. From the last two letters, it was obvious that he had pawned all his goods and still was largely in debt, especially to the United Services Institute where he received wine on credit. It looks like the financial loss from the "last escapade" and the wine bill together brought about his decision to end his life.
Just after 4 pm on the afternoon of 28 September 1914, near the Hamilton Hotel, by Racecourse Road, Beaumont decided to take his last breaths. To accomplish the deed, he had acquired a bottle of strichnine poison. Beaumont put the bottle to his lips and drank the contents.
Death was slow and painful. At about 4.30 Frederick Ernest Grimley, a motorman, employed by the Tram Company, and residing in Ann Stree, Valley, noticed Beaumont lying near the Hamilton retaining wall and moaning. Grimley asked Beaumont what he thought had happened. In response Beaumont asked for a drink of water, and said he had taken a fit. Grimley replied, "You have taken no fit. What have you done to yourself ?" The reply from Beaumont was, "I had some strychnine in my pocket, and took it to see how it would act."
Grimley left Beaumont to fetch an Ambulance and the police and on returning found him dead.
What really drove Beaumont to take his life is unknown. It appears that he had already made that decision in July 1914, possibly after the collapse of his relationship with his companion Dell and her departure to the Transvaal. After the elapse of more time and financial trouble, it seems as though it became all too much for him. It appears as though his friends urged him to enlist as a way to get himself back onto a positive track. This seems to have failed as Beaumont still considered that his life was "worthless". Ten days later he was dead.
National Archives Service File: 1095 Private Frank Dudley Beaumont
Further Reading:
Great War, Military Biographies
Battles where Australians fought, 1899-1920
---
Citation:
Great War, Military Biographies, Frank Dudley Beaumont, His Story
Posted by Project Leader at 10:17 PM EADT
Updated: Tuesday, 27 July 2010 6:55 PM EADT