Midshipman Cymberline Alonso Edric Huddart
Topic: BatzB - Graspan
The Battle of Graspan
Midshipman Cymberline Alonso Edric Huddart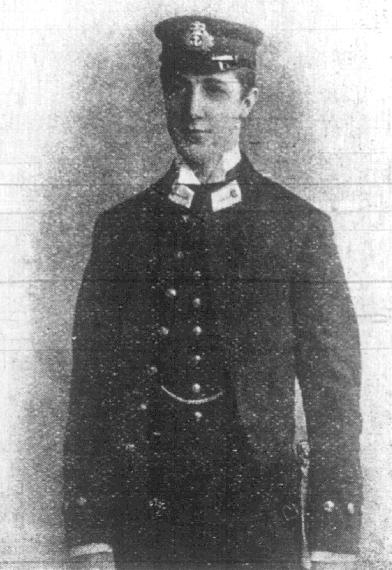 Midshipman Cymberline Alonso Edric Huddart
[From: Sydney Mail, 13 January 1900, p. 89.]
During the Battle of Graspan, the first Australian to fall in the Boer War was Midshipman Cymberline Alonso Edric Huddart.
Born in 1881, the son of James Huddart, of Eastbourne. The family moved to Ballarat. From here in 1895, at the age of 14, Huddart entered service with the Royal Navy and entered the "Britannia". During training he was selected as one of the two Chief Captains of Cadets. Huddart did very well during his training and his seniority was such that on passing out in June 1897, he joined the "St. George" on the Cape Station as midshipman.
Huddart remained on the "St. George" until the return to Britain at the conclusion of Admiral Rawson's tour of the Cape. When in Britain, Huddart was transferred to the "Doris".
At the outbreak of the Boer War and the resulting siege at Kimberly, a naval brigade commanded by Captain Prothero was formed as part of the Kimberley Relief Force. Huddart was selected as Prothero's acting Aide de Camp.
At Graspan, according to the despatch of Lieutenant General Lord Methuen, 26 November 1899, Huddart is stated to have
"behaved magnificently and still advanced aftet he had been twice wounded, until he was finally struck down mortally wounded."
The wounds he received that day at Graspan, 25 November 1899 proved to be mortal and died the same night at the Enslin hospital. The following day, Huddart was buried close to the hospital.
The events and circumstances surrounding his death was of such interest that even Queen Victoria ordered a copy of Huddart's picture with details of his service and his last hours. At the end of the war, Huddart was one of six Boer War recipients of the Conspicuous Service Cross, receiving that award posthumously on 2 July 1901.
Further Reading:
Graspan, South Africa, November 25, 1899
Battles where Australians fought, 1899-1920
---
Citation:
Midshipman Cymberline Alonso Edric Huddart
Posted by Project Leader at 12:01 AM EADT
Updated: Monday, 6 April 2009 10:10 PM EADT