Bothaville, South Africa, November 6, 1900, Times Account 2
Topic: BatzB - Bothaville
Bothaville
South Africa, 6 November 1900
Times Account, 9 November 1900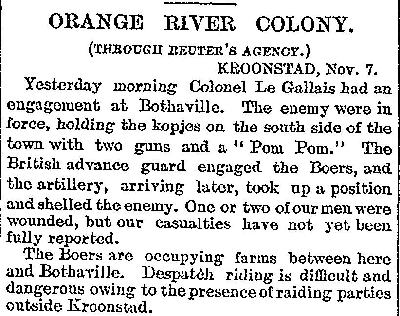 The Times, 9 November 1900, p. 3.
ORANGE RIVER COLONY.

(THROUGH REUTER'S AGENCY.)

KROONSTAD, Nov. 7.

Yesterday morning Colonel Le Gallais had an engagement at Bothaville. The enemy were in force, holding the kopjes on the south side of the town with two guns and a "Pom Pom." The British advance guard engaged the Boers, and the artillery, arriving later, took up a position and shelled the enemy. One or two of our men were wounded, but our casualties have not yet been fully reported.

The Boers are occupying farms between here and Bothaville. Despatch riding is difficult and dangerous owing to the presence of raiding parties outside Kroonstad.


Further Reading:
Bothaville, South Africa, November 6, 1900
South African (Second Boer) War: 1899-1902 - Overview
Battles where Australians fought, 1899-1920
---
Citation:
Bothaville, South Africa, November 6, 1900, Times Account 2
Posted by Project Leader at 11:01 PM EADT
Updated: Sunday, 5 April 2009 8:20 PM EADT