Buffels Hoek, Times Account, 20 August 1900
Topic: BatzB - Buffels Hoek
Buffels Hoek
South Africa, 16-17 August 1900
Times Account, 20 August 1900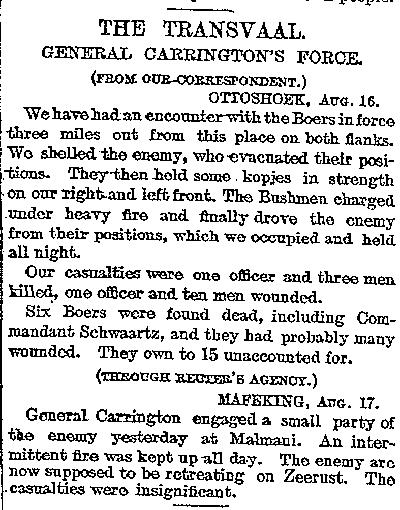 The Times, 20 August 1900, p. 4.

THE TRANSVAAL.

GENERAL CARRINGTON'S FORCE.

(FROM OUR CORRESPONDENT.)

OTTOSHOEK. AUG. 16.

We have had an encounter with the Boers in force three miles out from this place on both flanks. We shelled the enemy, who evacuated their positions. They then held some - kopjes in strength on our right and left front. The Bushmen charged under heavy fire and finally drove the enemy from their positions, which we occupied and held all night.

Our casualties were one officer and three men killed, one officer and ten men wounded.

Six Boers were found dead, including Commandant Schwaartz, and they had probably many wounded. They own to 15 unaccounted for.
(THROUGH REUTER'S AGENCY.)

MAFEKING, AUG. 17.

General Carrington engaged a small party of the enemy yesterday at Malmani. An intermittent fire was kept up all day. The enemy are now supposed to be retreating on Zeerust. The casualties were insignificant.
Further Reading:
Buffels Hoek, South Africa, August 16 to 17, 1900
Battles where Australians fought, 1899-1920
---
Citation:
Buffels Hoek, Times Account, 20 August 1900
Posted by Project Leader at 12:01 AM EADT
Updated: Friday, 10 April 2009 12:40 PM EADT