Query Club, 26 May 1915
Topic: Gen - Query Club
The Query Club
26 May 1915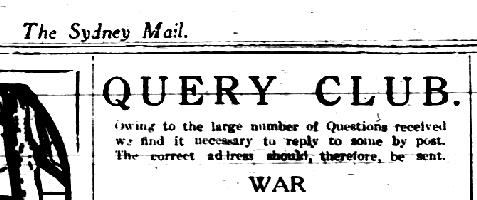 The large scale of the Great War often gave people a sense of alienation from the activities of the government and the army. To overcome this, newspapers of the day commenced columns called Query Club or similar names, where ordinary people could clarify their understanding of the complex processes. They also provide us, the historians, an insight into witnessing first hand, the responses of the various bodies to public concerns. The end product is a window into a society now almost out of living memory.
This is the Query Club from the Sydney Mail, 26 May 1915, p. 30.
ADMIRAL JELLICOE

"M.D."

Admiral Jellicoe is a native of Ryde, Isle of Wight. He was born in 1859. His father was Captain John Henry Jellicoe.



HORSES FOR THE WAR

J.A.W.

New South Wales has contributed well in the matter of horses for the Australian troops, but no figures are available.



QUEEN ELIZABETH

"B.T."

The Queen Elizabeth, the principal warship engaged at the Dardanelles, displaces 27,500 tons. She cost over £2,000,000. Her main armament is 15-inch guns.



THE 17-INCH HOWITZER

"F.M."

The exact range of the German monster howitzer is uncertain; but it is known to be over 20 miles. In the case of the shells recently dropped in Dixmude they are said to have come from a battery 23 miles off - believed to be composed of 17-inch howitzers.



ENEMY GUNS

"A.M.P." asks if the guns captured by the Allies can be used by them.


In the cases where guns are abandoned they are rendered useless to those who take them by the removal of important parts. Even where these can be replaced it is necessary to have suitable ammunition. The explosives used in Britain and Germany are different, so that neither, unless it captures a supply, can use the other's guns.



LIGHT HORSE

"Jockey"

If you are unfit for the infantry it is not likely that you will be acceptable for the Light Horse. If you possess all the other necessary qualifications, however, and it is only your light weight that prevents you joining the foot soldiers, you may be able to enlist as a horseman. The fact of your providing your own horse and being a good rider is certainly and important consideration, but nothing will count against unfitness.



AUSTRALIA'S SHARE

"Cremorne"

It was the German-Australian steamer Elsass that damaged the Domain Baths, Sydney, when clearing out of Woolloomooloo Bay on August 4 last, just before Britain entered the war. Australia did not formally declare war on Germany; that was unnecessary. We were not bound by any except moral ties to support the Motherland. If we refused to allow our navy to participate Great Britain would not have forced us.



SEPARATION ALLOWANCE

"Mother"

When an Australian soldier leaves for the front the separation allowance that was provided for his wife automatically ceases, but in place of it she is granted three-fifths of her husband's pay. If he cares to give her more he can do so but the authorities insist on a minimum of three-fifths. In most cases this works out better for the wife than receiving the separation allowance.



AMMUNITION MANUFACTURERS

"H.G.S."

Quite a number of factories in England that, prior to the war, were engaged in textile and other industries are now manufacturing ammunition. All available men are given employment, the Government controlling the works. We cannot publish the name of any factory. If you are an expert and are prepared to offer your services, you should communicate with the defence authorities here. If you went to England you would have no difficulty getting a situation at the prevailing rate of wages, but as there is a great need for experts in Australia you would be well advised to serve your country at home.



GENERAL FRENCH

"Targomindah"

The Major General Sir George Arthur French who at one time was State Commandant of Queensland, and later of New South Wales, belongs to a different family from Field Marshal Sir John French. He was born (1841) in Roscommon (Ireland), whereas Sir John French (born 1852) is a native of Kent (England). After considerable experience in England and Canada Sir George French was appointed to fill the Queensland command in 1883. He held the post till 1891, when he returned to England to take command at Dover. Later he was appointed Chief Instructor at Shoeburyness, the, in 1894, went to India as Brigadier General Royal Artillery, Bombay. Two years later he was appointed Major General commanding the New South Wales forces. He remained here till 1902, when he retired.
Further Reading:
---
Citation:
Query Club, 26 May 1915
Posted by Project Leader at 12:01 AM EADT
Updated: Sunday, 12 April 2009 9:11 AM EADT