Query Club, 9 February 1916
Topic: Gen - Query Club
The Query Club
9 February 1916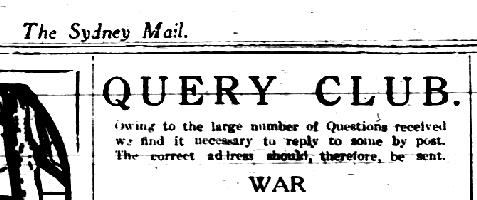 The large scale of the Great War often gave people a sense of alienation from the activities of the government and the army. To overcome this, newspapers of the day commenced columns called Query Club or similar names, where ordinary people could clarify their understanding of the complex processes. They also provide us, the historians, an insight into witnessing first hand, the responses of the various bodies to public concerns. The end product is a window into a society now almost out of living memory.
This is the Query Club from the Sydney Mail, 9 February 1916, p. 30.
NEUTRALS

"Stonehenge"

America, Greece and Romania are all neutrals, although the last named may eventually become an ally of the Entente Powers.



NO SOLELY DEPENDENT

"H.H."

As you are not "wholly and solely" dependent on the pay of your son who is at the front, you are not entitled to separation allowance.



NAVAL AFFAIRS

"Candidate"

The District Naval Officer, Naval Staff Office, Beach Road, Edgecliff, Sydney, will supply you with a form of application and all other information regarding the Naval College, the allowances to midshipmen, etc.



COMPULSION

"H.F.M."

Under the Commonwealth Defence Acts every able bodied man between the ages of 18 and 45 may be called up for home service. Before they could be called upon to serve abroad it would be necessary to have a special Act of Parliament passed.



THE BOER WAR

"Monkland"

The last South African war lasted from October 11, 1899, when the Boers invaded Natal, to May 31, 1902, when the Peace Treaty was signed at Pretoria.



PENSIONS

"La Guerre"

The widow of a private, killed or totally disable in the war, is entitled to a pension of £52 a year. In addition she would receive something from the patriotic fund.



SCHOOL OF INSTRUCTION

"W.W."

If you have had no previous military training you cannot hope to get into a school of instruction. Men in the ranks who show capacity and promise are recommended for admission to the schools by their superiors.



CONCENTRATION CAMP

"T.D.Y."

The guard at the German concentration camp is at full strength; but if you can handle a rifle, have done some drilling, and are not available for overseas service, you should apply at Victoria Barracks, where you may be registered to be called up if needed.



SEPARATION ALLOWANCE

"W.P.S."

The statement that separation allowance ceases when a soldier embarks is incorrect. The wife of a private is entitled to 1s 5d a day for herself and 4½d for per child but the total must not bring the soldier's pay up to more than 8s a day. Thus a wife with two children would receive only 2½d a day for the second child.



INSUFFICIENTLY ADDRESSED

"Max" sent a parcel to a soldier in Egypt, but did not address it sufficiently. He asks if it is possible to rectify the mistake.

We are afraid not. So many parcels. properly addressed, have neither reached their destination nor been returned that there is little hope for one insufficiently addressed. You might see the postal authorities.



MEDICALLY UNFIT

"Pikedale"

If you have been rejected as medically unfit for the infantry you will not be accepted for any other unit, unless you can show special qualifications for special work (it may be in the home service). For instance, you might have a weak eye and yet be a physically robust engineer, mechanic, chemist, dentist, cook, etc. You should state your case fully to the enrolling officer at the Victoria Barracks, Sydney.



Further Reading:
---
Citation:
Query Club, 9 February 1916
Posted by Project Leader at 12:01 AM EAST
Updated: Sunday, 12 April 2009 9:08 AM EADT