Driefontein, South Africa, The Times, 20 March 1900
Topic: BatzB - Driefontein
Driefontein
South Africa, 10 March 1900
The Times, 20 March 1900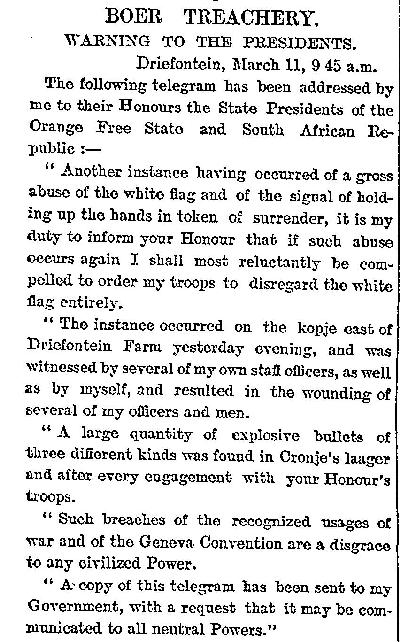 The Times, 20 March 1900, p. 5.
The account is transcribed below.
BOER TREACHERY.

WARNING TO THE PRESIDENTS.
Driefontein, March 11, 9 45 a.m.
The following telegram has been addressed by me to their Honours the State Presidents of the Orange Free State and South African Republic:
"Another instance having occurred of a gross abuse of the white flag and of the signal of holding up the hands in token of surrender, it is my duty to inform your Honour that if such abuse occurs again I shall most reluctantly be compelled to order my troops to disregard the white flag entirely.


"The instance occurred on the kopje east of Driefontein Farm yesterday evening, and was witnessed by several of my own staff officers, as well as by myself, and resulted in the wounding of several of my officers and men.


"A large quantity of explosive ballets of three different kinds was found in Cronje's laager and after every engagement with your Honour's troops.

"Such breaches of the recognized usages of war and of the Geneva Convention are a disgrace to any civilized Power.


A copy of this telegram has been sent to my Government, with a request that it may be communicated to all neutral Powers."

Further Reading:
Battles where Australians fought, 1899-1920
---
Citation:
Driefontein, South Africa, The Times, 20 March 1900
Posted by Project Leader at 12:01 AM EADT
Updated: Wednesday, 13 January 2010 6:36 PM EAST