12th (Tasmanian Mounted Infantry) Australian Light Horse, 1904
Topic: Militia - LHT - 12/26
12th ALH
12th (Tasmanian Mounted Infantry) Australian Light Horse
1904
Tasmanian Mounted Infantry [1900 - 1903]
12th (Tasmanian Mounted Infantry) Australian Light Horse [1903 - 1912]
26th (Tasmanian Mounted Infantry) Australian Light Horse [1912 - 1921]
22nd (Tasmanian Mounted Infantry) Australian Light Horse [1921 - 1930]
3rd (Tasmanian Mounted Infantry) Australian Light Horse [1930 - 1933]
22nd (Tasmanian Mounted Infantry) Australian Light Horse [1933 - 1942]
22nd (Tasmanian Mounted Infantry) Motor Regiment [1942 - 1943]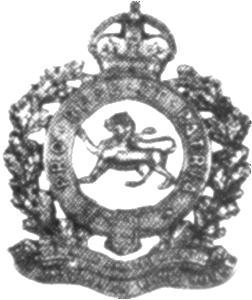 Pro Rege et Patria - for King and country
District
Tasmania
Brigade
4th Light Horse Brigade, Southern Victoria and Tasmania

Headquarters
Launceston

Honorary Colonel
Vacant.

Commanding Officer
Lieutenant Colonel C St C Cameron, CB, ADC to His Excellency, the Governor General

Adjutant
Vacant.

Quartermaster
Honorary Lieutenat DP Young, 23 July 1904.

Medical Officer
Lieutenant F Cole.
Number 1, Ross - Oatlands District Squadron.
Captain AH Rigall, DSO.
Number 2, Cressy - Westbury - Deloraine Squadron.
Number 3, Sheffield - Barrington District Squadron
Captain WG Hope

Lieutenant RR Roberts

Number 4, Ulverstone - Burnie District Squadron
Lieutenant EL Mays

Number 5, Hobart (Garrison) Squadron
Captain LFS Hore

Lieutenant DC Lewis

Lieutenant E St L Lewis

Lieutenant EF Lucas

Number 6, Launceston (Garrison) Squadron
Previous: 12th (Tasmanian Mounted Infantry) Australian Light Horse, December 1903
Next: 12th (Tasmanian Mounted Infantry) Australian Light Horse, 1905
Further Reading:
12th/26th Australian Light Horse
Australian Militia Light Horse
---
Citation:
12th (Tasmanian Mounted Infantry) Australian Light Horse, 1904
Posted by Project Leader at 12:01 AM EAST
Updated: Wednesday, 30 June 2010 6:59 PM EADT