New South Wales Mounted Rifles, History, Part 3, 1891
Topic: Militia - LHN - 2/9/6
NSWMR
New South Wales Mounted Rifles
History, Part 3, 1891
New South Wales Mounted Rifles [1888 - 1903]
2nd (New South Wales Mounted Rifles) Australian Light Horse [1903 - 1912]
9th (New South Wales Mounted Rifles) Australian Light Horse [1912 - 1918]
6th (New South Wales Mounted Rifles) Australian Light Horse [1918 - 1941]
6th (New South Wales Mounted Rifles) Motor Regiment [1941 - 1943]
6th Australian Armoured Car Regiment [1941 - 1943]
6th (New South Wales Mounted Rifles) Motor Regiment [1948 - 1949]
6th New South Wales Mounted Rifles [1949 - 1958]
Royal New South Wales Regiment [1958 - 1960]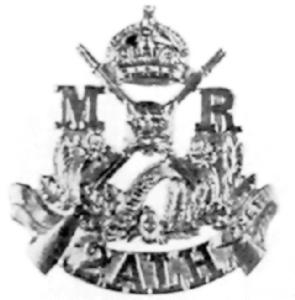 Toujours pret - Always Ready
Allied with: King Edward's Horse (The King's Overseas Dominions Regiment).
The following is the third extract from a manuscript written by an anonymous author. The hand written manuscript outlines the history of the 2nd ALHR NSW Mounted Rifles from commencement in 1888, until 5 April 1899, when history ceases. From the internal evidence of the manuscript, it appears to have been composed sometime from July 1903 to 1904.

The anonymous manuscript.

The third extract from the manuscript.
Regimental Band formed 1891


On the 16th January 1891, a Regimental Band of 17 musicians was added to the establishment, and was raised at Camden.


Encampment 1891


On the 27th March 1891, the Regiment assembled and marched into camp at Campbelltown to participate in the Annual manoeuvres at Easter, extending over nine days. On conclusion of the Camp, the following letter was received from the Officer Commanding the 4th Infantry Regiment.



My Dear Major Lassetter



Allow me to thank you for sending your band to play the 4th Regiment to the Railway Station on 4th inst; also to express my appreciation of the most valuable service rendered to my attaching column by the Mounted Infantry, it would be impossible for any men to work better, or to exhibit more readiness or intelligence. I consider it a most valuable force and the fork they did reflects the greatest possible credit upon their instruction. The road we came along was so bad in many places that I sent my force back to camp, as did all my mounted officers, for we did not care to risk valuable animals, how your men managed to steal along quite surprised me.



(Signed) CF Stokes, Lt Col.


Formation of Camden and Liverpool Companies, 1891.


On the 1st October 1891, the establishment of the Mounted Infantry Regiment was further increased viz: from 327 to 427, by the enrolment of 50 men at both Camden and Liverpool.
Previous: New South Wales Mounted Rifles, History, Part 2, 1890
Next: New South Wales Mounted Rifles, History, Part 4, 1893
Further Reading:
2nd/9th/6th Australian Light Horse
Militia Light Horse, New South Wales
Australian Militia Light Horse
---
Citation:
New South Wales Mounted Rifles, History, Part 3, 1891
Posted by Project Leader at 12:01 AM EAST
Updated: Friday, 2 July 2010 10:32 AM EADT