Gallipoli Campaign - 1915, Questions to the Turkish General Staff, Part 1
Topic: BatzG - Gallipoli
Gallipoli Campaign - 1915
Questions to the Turkish General Staff, Part 1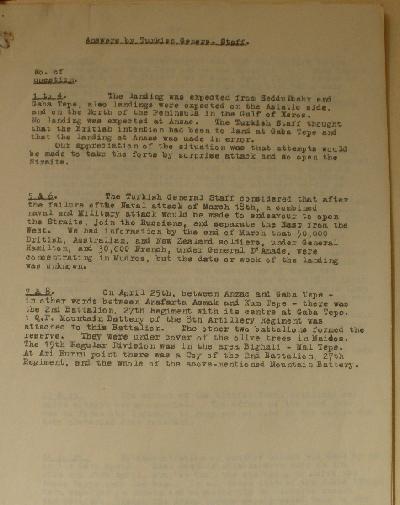 The Turkish General Staff Answers
During 1919, after the defeat of Turkey, a unique opportunity was opened up for CEW Bean to question the members of the Turkish General Staff about the Gallipoli Campaign. Bean presented a list of 111 questions. In June 1919, he received the answers. In the following transcription, the answers given by the Turkish General Staff will be qualified by the questions asked by Bean.
Questions 1 – 4
1. Where were the Turks expecting us to land?

2. Were they expecting us to land troops at Gaba Tepe?

3. Were they expecting us to land at Ari Burnu?

4. What did they think our intentions as to landing were?

The landing was expected from Seddulbahr and Gaba Tepe, also landings were expected a n the Asiatic side, and on the North of the Peninsula in the Gulf of Xeros. No landing was expected at Anzac. The Turkish Staff thought that the British intention had been to land at Gaba Tepe and that the landing at Anzac was made in error.

Our appreciation of the situation was that attempts would be made to take the forts by surprise attack and so open the Straits.



Questions 5 - 6
5. Approximately at what date did they first hear of our proposed landings?

6. When were they expecting the force at Mudros to land?

The Turkish General Staff considered that after the failure of the Naval attack of March 18th, a combined naval and Military attack would be made to endeavour to open the Straits, join the Russians, and separate the East from the West. We had information by the end of March that 50,000 British, Australian, and New Zealand soldiers, under General Hamilton, and 30,000 French, under General D'Amade, were concentrating in Mudros, but the date or week of the landing was unknown.



Questions 7 - 8
7. On April 25th what forces were there between Ari Burnu and Gaba Tepe? And where?

8. How many troops did they amount to in all and what were the numbers in reserve, and where were the reserves?

On April 25th, between Anzac and Gaba Tepe - in other words between Anafarta Asmak and Kum Tepe - there was the 2nd Battalion, 27th Regiment with its centre at Gaba Tepe. 1 Q.F. Mountain Battery of the 8th Artillery Regiment was attached to this Battalion. The other two battalions formed the reserve. They were under cover of the olive trees in Maidos. The 19th Regular Division was in the area Bighali - Mal Tepe. At Ari Burnu point there was a Coy of the 2nd Battalion, 27th Regiment, and the whole of the above-mentioned Mountain Battery.


Previous: Gallipoli Campaign
Next: Gallipoli Campaign - 1915, Questions to the Turkish General Staff, Part 2
Further Reading:
---
Citation: Gallipoli Campaign - 1915, Questions to the Turkish General Staff, Part 1
Posted by Project Leader at 12:01 AM EADT
Updated: Wednesday, 1 July 2009 11:29 PM EADT