Surafend, the massacre, Palestine, 10 December 1918, Barton Account
Topic: BatzP - Surafend
Surafend, the massacre
Palestine, 10 December 1918
Barton Account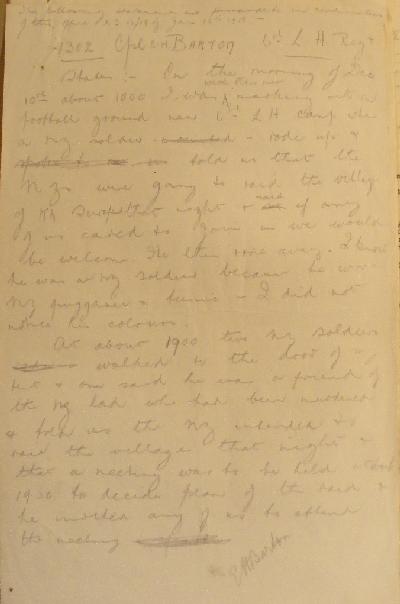 Corporal Edward Hugh Barton's account of his actions
The following account by 1302 Corporal Edward Hugh BARTON, 6th LHR, details events he witnessed during the day leading up to the events at Surafend.
On the morning of December 10th about 1000, I was with other men marking out a football ground near 6th LH Camp when a New Zealand soldier rode up an told us that the New Zealanders were going to raid the village of Kh. Surafend that night and said if any of us cared to join in, we would be welcome. He then rode away. I know he was a New Zealand soldier because he wore New Zealand pugaree and tunic. I did not notice his colours.

At about 1900 two New Zealand soldiers walked to the door of my tent and one said he was a friend of the New Zealand lad who had been murdered and told us the New Zealanders intended to raid the village that night and that a meeting to be held at about 1930 to decide plan of the raid and he invited any of us to attend the meeting.

(Sgd. ) EH.Barton. Cpl .

Further Reading:
Battles where Australians fought, 1899-1920
---
Citation:
Surafend, the massacre, Palestine, 10 December 1918, Barton Account
Posted by Project Leader at 12:01 AM EADT
Updated: Wednesday, 20 January 2010 1:32 PM EAST