Bir el Abd, Sinai, 9 August 1916, 1st LHR, AIF, War Diary Account
Topic: AIF - 1B - 1 LHR
Bir el Abd
Sinai, 9 August 1916
1st LHR, AIF, War Diary Account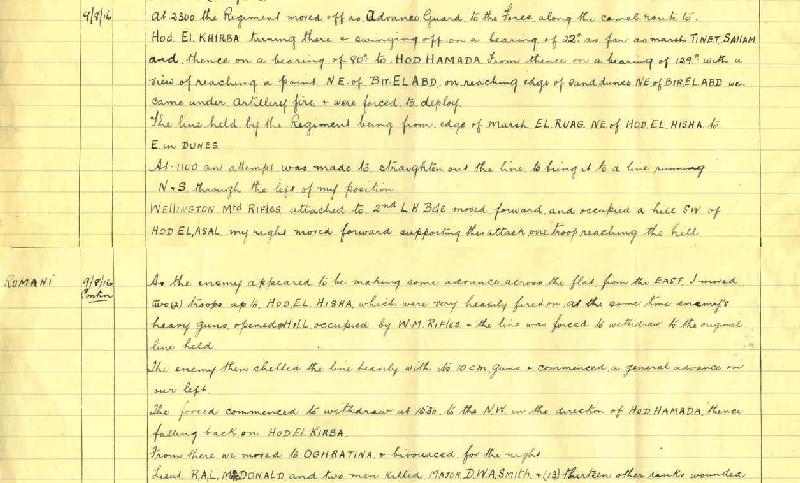 War Diary account of the 1st LHR, AIF.
The transcription:
At 2300 the Regiment moved off as Advance Guard to the Force along the camel route to Hod el Kirba, turning there and swinging off on a bearing of 22 degrees as far as marsh Tinet Sallam and thence on a bearing of 80 degrees to Hod Hamada. From thence on a bearing of 129 degrees with a view of reaching a point North East of Bir el Abd. On reaching the edge of sand dunes North East of Bir el Abd we came under artillery fire and was forced to deploy.

The line held by the Regiment being from the edge of marsh El Ruag north east of Hod el Hisha to east in dunes.

At 1100 and attempt was made to straighten out the line to bring it to a line running north and south through the left of my position.

Wellington Mounted Rifles attached to 2nd Light Horse Brigade moved forward and occupied a hill south west of Hod el Asal. My right moved forward supporting this attack. one troop reachint the hill. As the enemy appreared to be making some advance across the flat from the east, I moved two (2) troops up to Hod el Hisha which were very heavily fired on at the same time the enemy's heavy guns opened on hill occupied by Wellington Mounted Rifles and the line was forced to withdraw to the original line held.

The enemy then shelled the line heavily with its 10cm guns and commenced a general advance on our left.

The force commenced to withdraw at 1530 to the north west in the direction of Hod Hamada, thence falling back on Hod el Kirba.

From there we moved to Oghratina and bivouaced for the night.

Lieutenant RAL MacDonald and two men killed. Major DWA Smith and (13) thirteen other ranks wounded.

Roll of Honour
Errol Roland BOUGHTON

Ronald Alexander Leslie MacDONALD

George Rawdon Ffrench NOBBS
Robert Henry James WHITE

Further Reading:
1st Australian Light Horse Regiment, AIF
1st Australian Light Horse Regiment, Roll of Honour
Battle of Romani, Sinai, August 4 to 5, 1916
Bir el Abd, Sinai, 9 August 1916
Battles where Australians fought, 1899-1920
---
Citation:
Bir el Abd, Sinai, 9 August 1916, 1st LHR, AIF, War Diary Account
Posted by Project Leader at 12:01 AM EADT
Updated: Friday, 18 December 2009 4:56 PM EAST